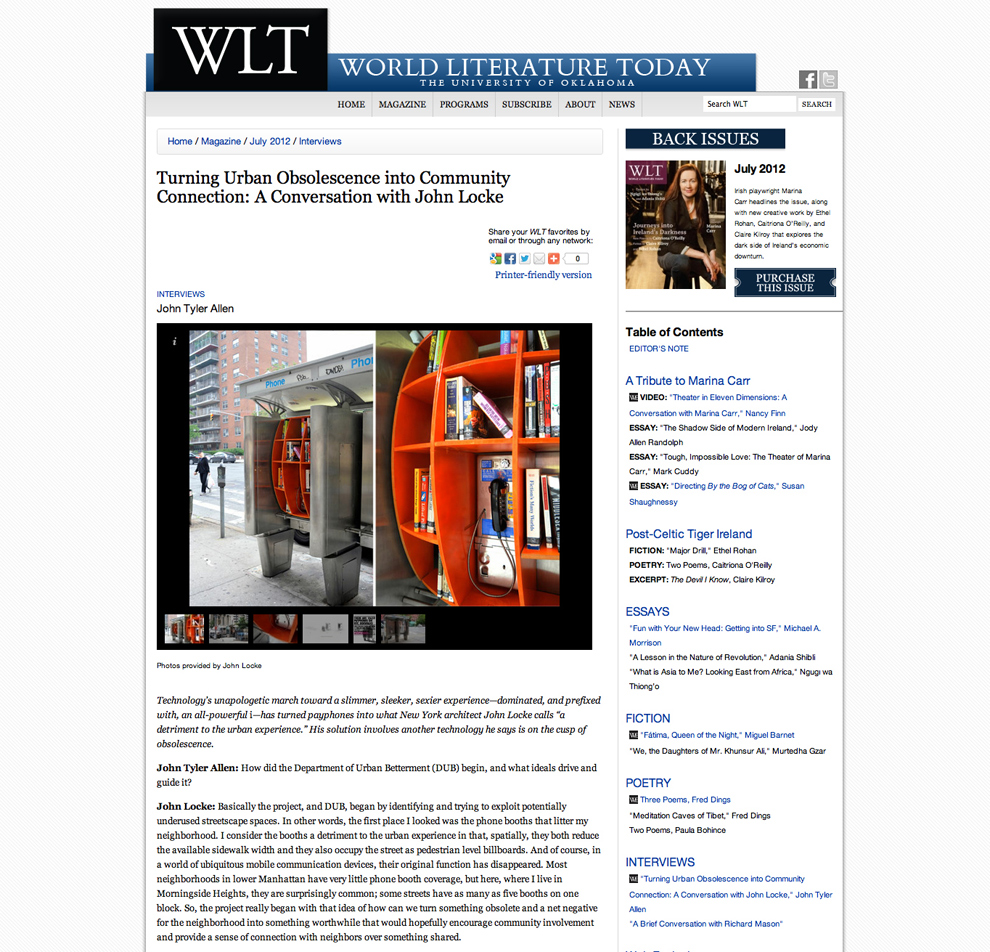 Technology's unapologetic march toward a slimmer, sleeker, sexier experience—dominated, and prefixed with, an all-powerful i—has turned payphones into what New York architect John Locke calls "a detriment to the urban experience." His solution involves another technology he says is on the cusp of obsolescence.
John Tyler Allen: How did the Department of Urban Betterment (DUB) begin, and what ideals drive and guide it?
John Locke: Basically the project, and DUB, began by identifying and trying to exploit potentially underused streetscape spaces. In other words, the first place I looked was the phone booths that litter my neighborhood. I consider the booths a detriment to the urban experience in that, spatially, they both reduce the available sidewalk width and they also occupy the street as pedestrian level billboards. And of course, in a world of ubiquitous mobile communication devices, their original function has disappeared. Most neighborhoods in lower Manhattan have very little phone booth coverage, but here, where I live in Morningside Heights, they are surprisingly common; some streets have as many as five booths on one block. So, the project really began with that idea of how can we turn something obsolete and a net negative for the neighborhood into something worthwhile that would hopefully encourage community involvement and provide a sense of connection with neighbors over something shared.
JTA: Was it important to you to choose a project centered around books?

JL: The idea of creating the project around books is just one solution to that question. As an avid reader and owner of way too many physical books, I was immediately drawn to that as being a potentially workable solution, and I personally believe that a world with more books in circulation is pretty nice. What's more common than sharing a good book you've read with a friend? But at the same time, I can envision a number of other valid solutions. In Beijing phone booths have been converted into Internet hot spots, and in Austin a group of artists converted a payphone kiosk into a seesaw. But could they also function as other sorts of community communication devices, ways to locally transmit information and data? Those are the things I'm most interested in.
I was also drawn to the technological, and maybe even psychological, symmetry between physical books and phone booths. I think there is an innate feeling of loss toward both, in that one has already been rendered obsolete by a new technology—cellular phones—and the other is seemingly on the cusp of obsolescence as well, both through the proliferation of e-book readers and the general waning of literature as being part of the wider cultural discussion. And I think there is always a sense of hesitation, maybe even nostalgia, when something that once seemed so prominent and important begins to disappear.