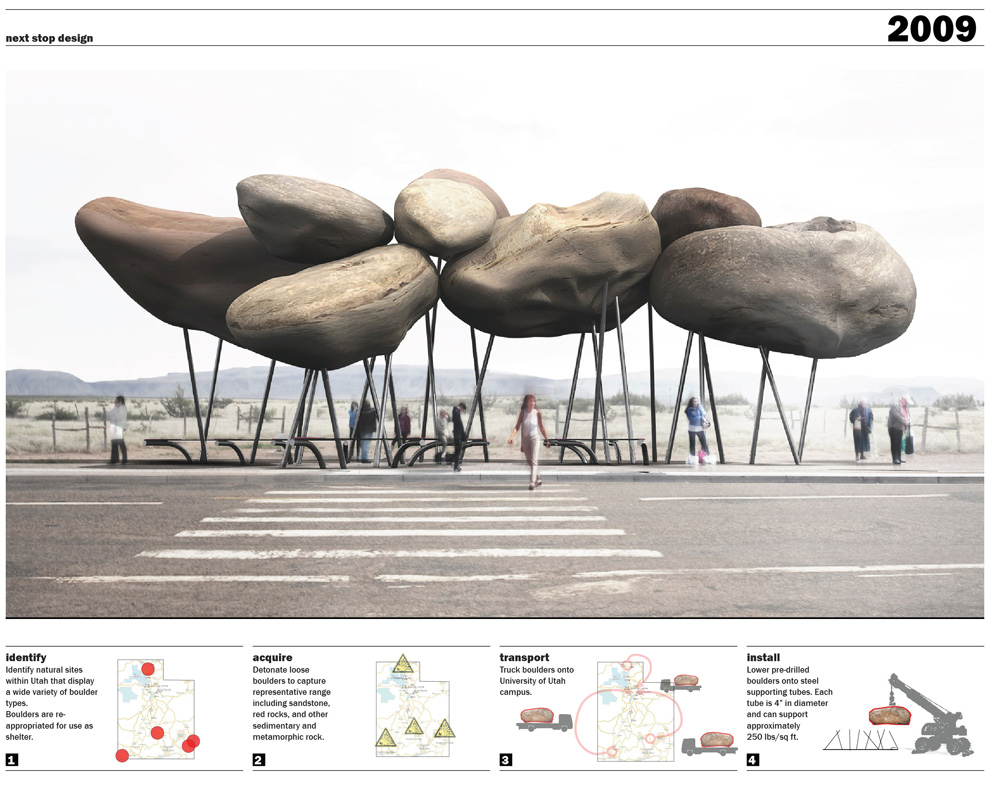 Ok, so this is my entry to the Next Stop Design "competition" for a bus stop on the University of Utah campus. I'd just spent a fair amount of time in Utah so the setting piqued my interest. The boulders are recycled from national parks around Utah and brought into Salt Lake to form the shelter of the bus stop. Whatever, right, pretty straightforward and not bad for a lazy afternoon's work. What's actually much more pertinent for discussion is how NextStopDesign understands the application of the buzzword "crowdsourcing" in relation to the future of architectural competitions.
Wikipedia defines crowdsourcing as "the act of taking tasks traditionally performed by an employee or contractor, and outsourcing it to an undefined, generally large group of people or community in the form of an open call." Wikipedia is an example of crowdsourcing. Here's another: Netflix uses an algorithm to recommend other movies you'd like based on your past viewing habits. This algorithm could certainly be improved upon so it becomes more accurate and stops trying to get me to watch The Benjamin Button movie. So to design a better recommendation algorithm, Netflix didn't hire some movie-algorithm-predicter company, but rather put out an open competition – with a prize of 1 million dollars – with the idea that anyone out there can come up with a better algorithm that will more truthfully predict what kind of movies I'll like. And anyone and everyone has tried: academics, laypersons, programmers, etc.
Now here's how NextStopDesign competition organizer and researcher Daren Brabham defines crowdsourcing: "a company posts a problem online, a vast number of individuals offer solutions to the problem, the winning ideas are awarded some form of a bounty, and the company mass produces the idea for its own gain." Sweet, so I can be compensated a nominal amount for my work, and then some other company reaps massive profits. Score! Where do I sign up?!?! But maybe the problem is that this dude's narrow and cynical reading of crowdsourcing isn't actually inaccurate, but actually pretty well describes the exploitive nature of crowdsourcing.
This is how NextStopDesign attempts to apply the principle of crowdsourcing into the design of a bus stop in Utah: Anonymous users post one to three images of their proposed design on the site, and other registered anonymous users rank said designs on a scale of one to five stars. When the voting ends, the highest rated design "wins." What you win is completely undefined, but hidden deep in the bowels of the site is the statement that NextStopDesign will present the portions of the highest rated designs as possible qualities the Utah Planning Division could consider implementing in the future. In this scenario NextStopDesign acts an unnecessary parasitic gatekeeper. Now, since being highly rated is predicated on how others rank you, it is in each users own best interest to vote everyone else as low as possible as they jockey for a higher position. This leads to a cutthroat environment where everyone leaves absurdly irrelevant and overly harsh criticisms on other designs, and depresses the entire vote score. Out of around 200 designs the median score is a paltry 1.6 out of 5. Therefore, the highest ranked design is the one has garnered the most goodwill amongst a loose network of vindictive users that are each looking out for their own vested self-interest. Since all comments and ratings are anonymous you can't trust anybody. This ultimately leads to the major misunderstanding NextStopDesign must confront regarding crowdsourcing and urban planning which is this: When Netflix crowns a winner they will be able to quantifiably judge that someone in the crowd has designed a more efficient algorithm. It can be tested, verified, and agreed upon by all. The design of a bus stop is different, and must address a whole slew of realities such as siting, fabrication, cost, etc. that are unable to be processed from even the most beautifully rendered image. On the other hand, what could make this competition interesting is if NSD were attempting an experiment to quantify the intangible qualities of architecture via a participatory network, or using the performative values of a proposed design (using program, energy, structural)as a means to rank and determine what's "better." But based on their repeated and simplisitic definition of crowdsourcing (step1_competition, step2…., step3_profit!) as simply a buzzworthy potential means to realize a new profit model it falls flat, and it is narrow and cynical. I'm torn here, because I think a lot of the submitted designs are really clever and inventive (I'm looking at you Bus-Shroom!). It's the means to which they're being used that bothers me.
There's absolutely nothing groundbreaking about letting the general population participate in the results of an architectural competition. I've worked on at least two competitions where the voting results of the public became a factor in the jury's deliberations. Also, archinect just ran a completely awesome competition for a Michael Jackson memorial where online contributors could rate and comment on the submissions. But here, the participatory aspect is but one component used in addition to a jury of experts in fields of design, architecture and engineering. And in lieu of this weeks amazing presentation by Usman Haque, in which he presented a survey of his projects that utilize a true participatory network in inspiring ways, NextStopDesign can't help but come off as cloying and depressing.
In the end, though, it might be worth re-reading the Wired article that NextStopDesign quotes from liberally, and there, one can find the murky origins of NextStopDesign in the form of the earliest use of crowdsourcing, here in the interest of cheap, mass-marketed television programming: America's Funniest Home Videos. Yes Bob Saget and ABC did make a fortune, but just because America voted for the hysterically zany toothless kid, doesn't make him as great as the Simpsons. Maybe you really do want to look at reality show programming as the new paradigm for urban planning and architecture, but I'm pretty sure nobody wants more Wiffle Bats to the proverbial crotch.
5 Responses to "the (un)certain future of competitions"
reply