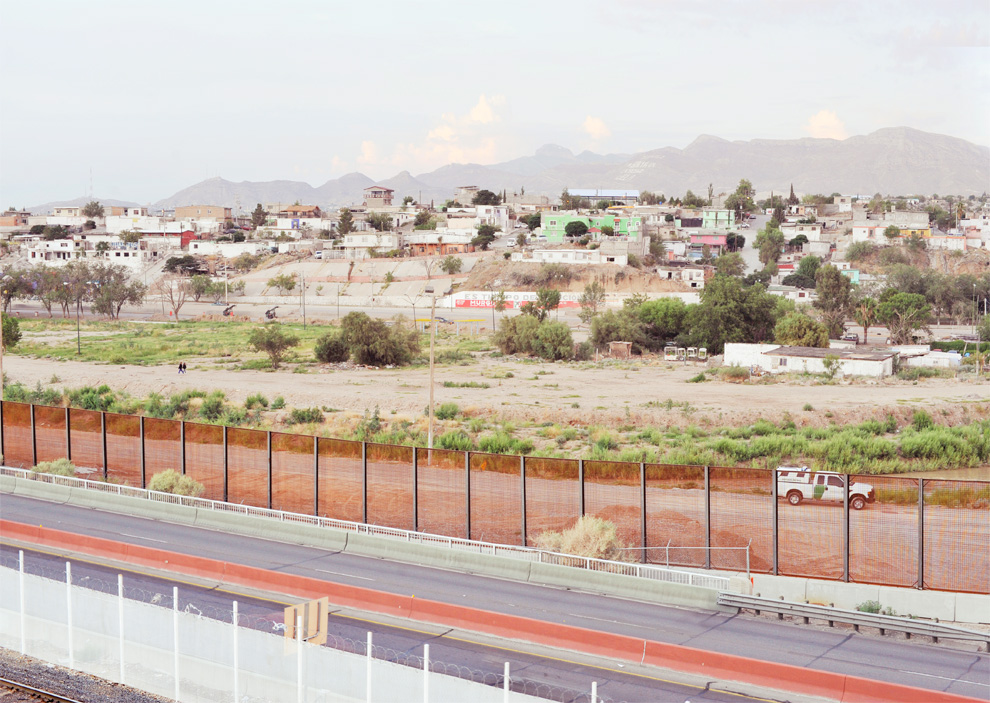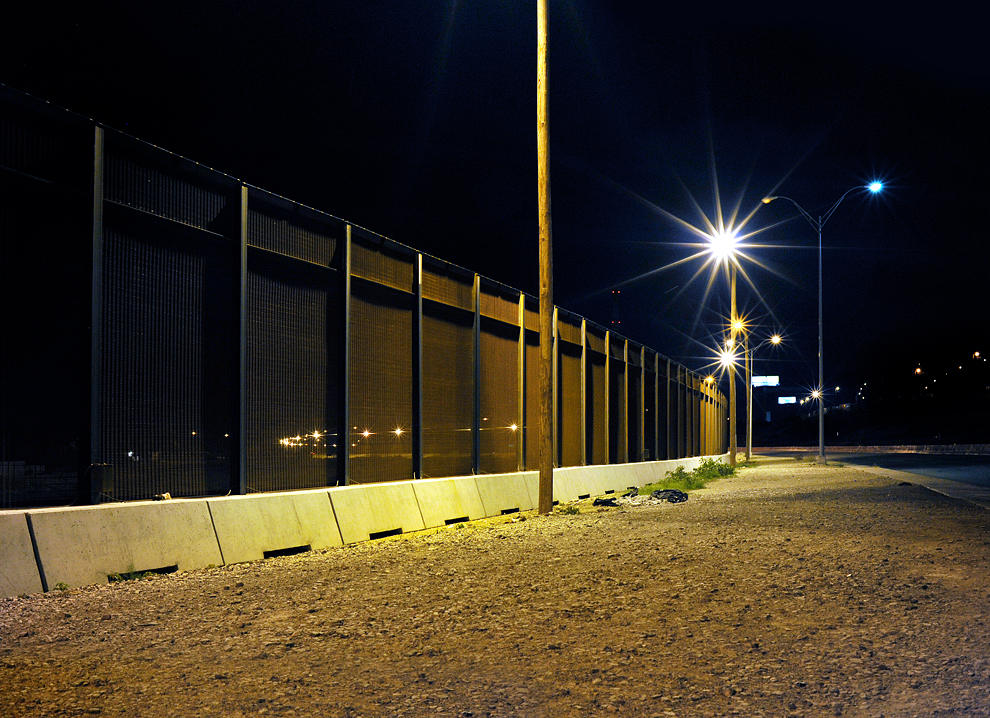 It's eighteen feet tall. The vertical steel pylons are set closer together than the width of a truck to resist the force of direct a hit, thereby avoiding the possibility of any punctures or vents. The pylons are infilled with an anodized metal mesh, a mesh that flaunts heartbreakingly clear views through to the other side, which, however, is at the same time dense enough to prevent all but the smallest of fingers and toes from finding purchase. A man wielding bolt cutters was shot here by a Border Patrol agent eighteen months ago. (boilerplate response: "the Mexican government opposes the use of lethal weapons in situations that do not represent a proportionate risk.") The concrete base is over three feet wide to withstand a potential rocket attack and extends six feet into the underground bedrock layer to deter any would-be tunneling. It cuts through the desert for 690 miles, heedless and ignorant of laws designed to protect and uphold environmental protection, endangered species reserves, migratory bird paths, antiquities, Native American graves and religious freedoms, among thirty others. To the U.S. Government it is not a wall, it is "tactical infrastructure." And no one wanted it here.
Two neighbors are meeting at the terminus of their properties and inspecting a damaged rock wall that divides their lots in Robert Frost's "Mending Wall." The narrator is playful, almost goading and pushing the neighbor into articulating the necessity of rebuilding the wall. These are the last five lines of the poem:
He moves in darkness as it seems to me~
Not of woods only and the shade of trees.
He will not go behind his father's saying,
And he likes having thought of it so well
He says again, "Good fences make good neighbors."
That second guy, the one moving in darkness, the recalcitrant and plodding neighbor, a blind slave to the cliches of the father, that guy is Michael Chertoff. As reported in the Washington Post of August 2007, El Paso Mayor John Cook stated: "Most people in Washington really don't understand life on the border …They don't understand our philosophy here that the border joins us together, it doesn't separate us."
The context of Cook's statement was a lawsuit filed by the City of El Paso, El Paso County, the El Paso County Water Improvement District No. 1, and the Ysleta del Sur Pueblo, among others, against the Department of Homeland Security. In 2005, Congress tasked DHS with the "the expeditious construction of barriers" to construct the border wall and granted Chertoff power to void any federal law that would prevent that expeditious construction. Thirty-six laws protecting environmental quality, historical resources and native American sites were waived. El Paso believed the waivers were detrimental to the health of the region and found them unconstitutional. In September 2008 a Federal District Judge granted the DHS's motion to dismiss the lawsuit. El Paso lost, and the fence was quickly rushed to completion before a January 31, 2009 deadline. With the damage already done, in June of 2009 the US Supreme Court denied the city and county's appeal. The court upheld that Congress had legitimately granted Chertoff the power to dismiss any law that could potentially deny his given mandate.
Except in matters of national security, Mexico City and Washington, D.C., are remote and disengaged from the workings of the border. Today it is largely up to the local governments and organizations along the border region to resolve persistent local urban problems in the area, such as zoning and water rights. The border region has frequently been defined as a "third space," with competing government agencies, and NGO's occupying this new territory. However, the lawsuit showed that no matter how far removed, the Federal Government can still trump local concerns.
Even in an administration bursting with hubris, when defending the border wall Chertoff stands out as a fount with a number of choice quotes. Among them being, in defending security at the border from El Paso concerns: Chertoff claimed the city "had no idea how difficult it is here at the border." And considering the detrimental repercussions a steel border would have for economic and cultural future of the conjoined twin cities of El Paso and Juarez, Chertoff stated that in response to DHS actions that, "We don't want to destroy the border in order to save it." (Even hearing a government official obliquely reference Bến Tre logic in a domestic setting is both ridiculous and pretty frightening.)
But in the end, Chertoff is no different than the neighbor in Frost's poem, unable to comprehend the inane necessity, but nevertheless pushing forward with all expeditious concerns, all the while ignoring the difficulty of justifying its existence does not preclude actual construction. As an essential infrastructural component, the wall was rushed to completion and now stands as a thin monument to fear and paranoia.
Succintly summed up, and quoted in BreitBart, the border fence "is a political initiative meant to satisfy conservatives in Congress who have played to fears about all immigrants being terrorists, criminals, and living off the dole," El Paso County Attorney Jose Rodriguez, the point man in one of the lawsuits, fumed.
Immigration had become a national security priority. Tijuana and Ciudad Juárez grow at an annual rate of 6.3% and 5.3%, respectively. Most of this growth is attributed to immigration from within Latin America. It is estimated that over 33% of the cities' populations originated from outside the state of Chihuahua. Of those that emigrate from Tijuana and Juárez, 95% go north, to the United States. This has created a nomadic class of people, with aspirations for a better life elsewhere. The Mexican side of the fence is less a home, and more of a strategy for escape, which in turn creates an American side 'under siege,' – the U.S. builds increasingly higher walls and more gated communities.
A quick note about the second photograph: say what you will about Border Patrol Agents, they're nothing if not efficient. Less than two minutes after pulling off the road, and about 30 seconds after taking a picture I was boxed in by two white trucks. A cursory glance showed that I was not a Mexican, and a more thorough glance showed that there were in fact no Mexicans stowing away in the trunk.
This would be one of many inadvertent interactions with the Border Patrol. They're ubiquitous, most notably in the compulsory check points scattered all along the highways of the southwest. Typically they're pretty casual, and I can't help but think that there's always some half-concealed disappointment at my glaringly non-immigrant, Caucasian-ness. And it's important not to confuse the Border Patrol with their stern-eyed, grim faced cousins – the Custom Agent. Those guys don't joke around. But the Border Patrol is different. Even odds are they haven't been on the job that long – the number of active agents has doubled since 2001. What makes them even more interesting, and endemic of all border complexities, is that they're typically Hispanic. Which means that statistically they themselves are less than two generations removed from being Mexicans living in Mexico. This is something I'd like to ask this guy about. I'd also like to ask whether they ever experience a sense of futility in what has to be a frustratingly obvious system that expends such vast sums of man hours, time and money just to briefly detain illegals in over-crowded processing centers, then deport them back across the border as part of a never-ending cycle of catch and release. And while they're certainly fraught with complex issues of identity, nationalism and duty, issues that I can't begin to understand, those are all of the things I wanted to ask about. But standing under the border wall floodlights along a dark, lonely road, I couldn't muster the courage.
reply