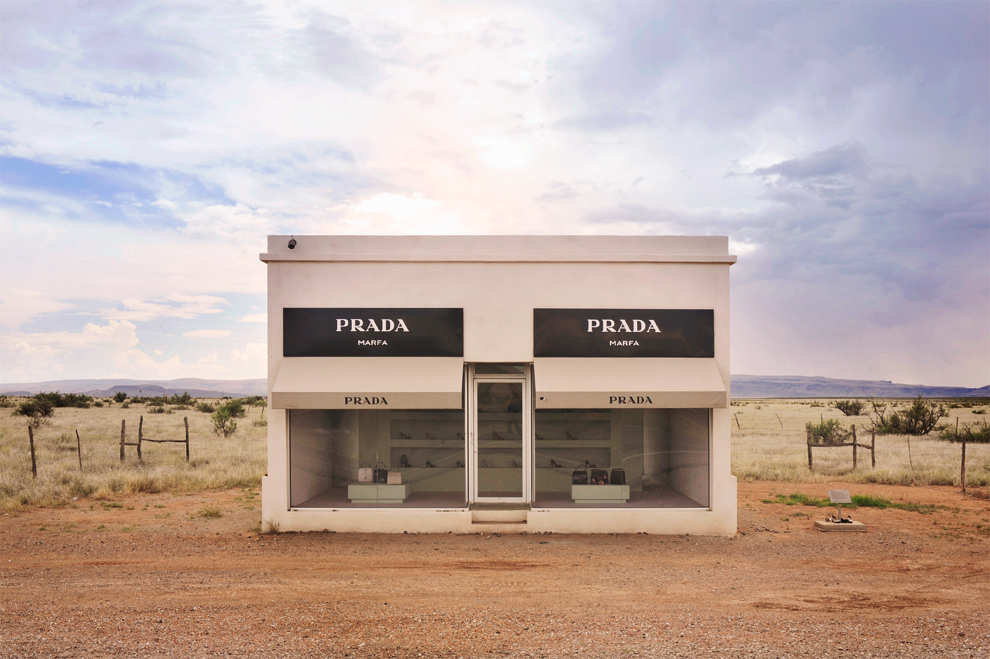 "Take the whole family to Marfa, Texas, 'the Jonestown of Minimalism.' See Donald Judd's bed! Eat food all the same color! Scare the locals! Win a date with John Chamberlain!"
Text from John Waters' Visit Marfa poster from 2003.
Marfa was my last stop on the Kinne trip. A small town in the Big Bend region of West Texas, three hours south of the major east-west Texas Interstate, the region could be best described as isolated. You know you're getting close to this 1.6-square-mile town when, if you're driving from El Paso along US-90 (which you probably are since El Paso International is the region's nearest airport), you see amongst the desert scrub, derelict oil derricks, lonesome cows, and sagging half-dead towns a squat, free-standing Prada store along the highway—an entirely unwelcome site along one of the greatest drives in the country, through a hauntingly empty lunar landscape sporadically interrupted by violently vertical low mountain steppes. While the window display of this Prada outpost is stocked with bejeweled leather handbags and four-inch peep toes, this isn't any Italian couture outlet. Rather it is a 2005 art installation, a wink-wink one-line joke that is trying to say something about the current state of Marfa as a nexus of art and commerce. You see, art came to Marfa, and the Pradas weren't far behind.
Ok, here's the best story ever told about Marfa as written by the incredible Molly Ivins. It's certainly apocryphal, but like all rumors and Texas tall tales, hints at a deeper truth. The booming oil-soaked West Texas towns were drying up in the severe recession of the early 1980s, a time in which poverty and unemployment were threatening the existence of a region that was built on the outdated, newly-modernized, and moved-away twin pillars of ranching and oiling. That is, except for Marfa. Thanks to a transplanted New Yorker, the minimalist sculptor Donald Judd*, Marfa had a back-up revenue stream— minimalist art, and lots of it—that was starting to lure a steady flow of nascent tourist dollars into the town. Word spread through the region that people from miles around, all over the country even, were starting to show up in Marfa with open wallets. And some of these new visitors were sticking around, fixing up old buildings, maybe even adding a coffee shop here and there. Before you knew it, Marfa wasn't an old dying town, but a thriving one. As Ivins tells it, West Texans all over were intrigued by these new foreign visitors and wanted more of them, and a familiar sight started occurring at economic development town meetings in the region: "some old rancher is apt to stand up – big old rough hands curlin' up the brim of his cowboy hat with embarrassment over having to speak in public, of course – and inquire earnestly, 'How do we get them gay people to come?'"
*Among the many things the taciturn Judd disliked in his life, being referred to as a "minimalist" was a big one. He preferred to call himself an "empiricist." He also rejected the term sculpture because of the implied sense of carving.
Now, some 25 years later, here is Marfa resident Christina Dreyfus quoted in the May 6th, 2007 Fort Worth Star Telegram: "With all of the new people coming, it seems to me that the place is going more and more for the tourists and retirees….The regular Joes on the street can't afford it anymore." For practical purposes, everyone knows what gentrification is. As usual, though, there's more to it than the simple story of what is occurring in places like the Lower East Side and downtowns all over the country. Look at the case of adobe homes in Marfa. An original adobe structure is typically seen as difficult to maintain due to the poor state of wiring, lighting, and eroded material efficiency. Most residents are much happier in a balloon framed, wood-siding house, if not a simple pre-fab trailer, and see the decaying adobe as a blighted nuisance. But, of course, to an outsider, adobe is authenticity personified, a rarity, something to be prized. No one wants to tell their friends in San Francisco that they own a clapboard house in Marfa. In the West of the imagination, adobe is king, and homes that were appraised at $40,000 are selling for upwards of $300,000. Priced out are the 36 percent of county residents who live below the poverty line, which has led to low-wage workers commuting long distances to Marfa, a town whose population hovers around 2,000.
It's inevitable that this juxtaposition of Marfa over time will lead to unavoidable and overly sentimental questions of the proper means by which to achieve civic renewal. The trope that what came before is certifiably better, that finding superiority in someone else's traditions is morally more correct than embracing the new is certainly annoying in its own self-regard. But, before we go any further, let's acknowledge that those questions regarding the value of art, gentrification, the economic and political implications of tourism, and race are bound up in an extremely complex and difficult mass, and get into a whole subjective field of issues that try to resolve what's best for other people and what produces a vibrant and healthy environment. However, it's impossible to fight the sentiment that the new Judd congregations are fundamentally out of synch with the idea of West Texas as a bastion of authenticity against the trendiness and fleeting fashionability of the art world. This can only be further reinforced by the steady stream of Hollywood celebrities that have been flocking to Marfa, chasing down the next Santa Fe, Taos, or Sundance, in a perverse distortion of Frederick Jackson Turner's "frontier theory," constantly finding and despoiling the last towns untouched by Wal-Marts and Applebee's, while happily paying the astronomical prices that have driven the cost of everything from real estate to Blue Bell ice cream to staggering levels. This leads to one of the strongest reasons to denounce urban renewal, which is the range of civic activities destroyed by the removal of communal physical spaces caused by the homogenization of the town when all but the rich are pushed out. The neighborhood cafés, feed stores, and groceries that have been supplanted by coffee shops, art galleries, wine bars, and organic markets are a manifestation of the notion that locality begins with social life. Longtime cafés popular with locals have been forced to move off of the main street, segregated from the artist class. It had been eight years since I was last in Marfa, and the changes that have taken place in that time can only be called extensive, best personified by the Thunderbird Motel—what had once been a comfortably run-down (and eminently affordable) place to stay had morphed into a $150-a-night boutique hotel—which could most accurately be described as renovated in the South Austin style, which is off-putting in a generic Dwell kind of way.
A temporary, nomadic population of vacationing, summer residents, lifestyle tourists, and MFA interns, a group whose closest attempt at civic engagement came when they banded together to stop a planned big box development that was within eyesight of the Chinati Artist Foundation. An attractive, affordable residential and commercial development that one can't help but assume the 36 percent of Marfa residents that live below the poverty would have preferred to a contemporary art mecca. Gentrification produces a shallow architecture that produces as poor neighborhoods as blight – suffering from a lack of citizenship and homogeneity between rich and poor, but in this case leads to an anti-development stance that keeps the town in a perpetual state of acceptable rusticity. It's a tough equilibrium that has to be maintained to prevent the town from slipping into the anywhereness that causes the influx of monied residents to occupy an inherently anti-democratic stance as they exert undue influence on development in spite of the majority's best interests. So many monied elites, in fact, that one local cattle rancher succinctly described the current state of Marfa as: "Filling up with triple A's — artists, assholes and attorneys."  This finally leads to the ostensible focus of this entry, the one man who altered Marfa to such a widespread extent, and was neither urban planner, architect, nor developer, but rather artist: Donald Judd.
John Waters' satiric take on Marfa is funny for many reasons, most specifically the bubble lettered exhortation to "See Donald Judd's Bed," which you can in fact see. (I personally chose to forgo this portion of the tour, but by all accounts, Judd's bed appears a comfortable nest among a scattering of decidedly non-minimal western kitsch furnishings.) It's a perfect example of the subversion of minimalism's aesthetic objectiveness and impartiality into a dedicated cult of personality and a triumph of the pseudo-spirituality found in zealots of minimalist objects. One can't help but make the comparison that this is Elvis's Graceland for the Whole Foods set. Not only is Waters referring to the man, but the designed object of the bed. In his later years, Judd turned to designing furniture with a simplicity that shared much with his art. The object of the bed becomes a shrine to minimalism's end-point as merely good design, and the reason the quiz "Ikea or Donald Judd?" is now so difficult.
By all accounts Judd was an asshole, but he made an honest effort to assimilate into the secluded ranching community he found in Marfa when he moved from Manhattan in 1971. He always hired local workers and paid a good wage. But the gulf between outsider and local was too vast, and even Judd himself, the harbinger of the aesthetes, was unsatisfied with what he had wrought. In a continuing, and ultimately futile quest for the frontier, he left Marfa for a ranch further south near Terlingua where he spent the majority of his last years. He could never own enough land or buy enough property to attain whatever plateau of assimilation he strived for, and the Chinati Foundation was left to manage his vast holdings and artwork in Marfa. The Chinati Foundation is where I found myself on the morning of my 10 o'clock scheduled meeting time to rendezvous with a group of strangers and view Judd's installations, as well as a number of other artists with whom he was friends and whose work he championed, including Dan Flavin and John Chamberlain.
Here's the thing: it's all about how you experience the art. I think this holds especially true with land art. Amidst reports of 20th century museum goers who have wept in front of paintings, art historian James Etkins set out to objectively classify a number of factors that would induce an optimal setting to produce "strong encounters with works of art." Among them are seemingly obvious admonitions: go alone, don't try to see everything, take your time, and minimize distractions; as well as more vague concepts: be faithful, pay full attention, and do your own thinking. The reason these bear mentioning is that the Chinati Foundation disregards all of them. Firstly, being part of a large group is a prerequisite for touring the grounds. There are probably some instances where moving through a museum as part of a group of strangers is a good thing, but here it is questionable—especially when the tour begins with a mother of three bored-looking kids asking the volunteer guides how many exhibits we have to see. The fact that this exchange takes place literally in the shadow of a Donald Judd pretty much sets the tone for the entire day: a harried herding through a number of repurposed buildings, and disapproving looks from the rest of the group for slowing them down in the Dan Flavin rooms.
Chinati is smart enough to start the tour with their best—Judd's 100 untitled works in mill aluminum (1982-1986). The boxes have a certain refinement and elegance about them that is impossible to deny. Judd was a master of minimalism, a movement that is too easily and lazily derided for being 'boring' or 'bland' (think Carl Andre). No one could repudiate the careful time and skill that went into crafting the field of aluminum boxes into a successful example of less-is-more. But it is the boxes' mere beauty that, to me, denied them true power. Notions of the sublime and picturesque were first codified in Edmund Burke's 1756 essay in which he set out to differentiate that which is simply beautiful as opposed to that which is truly great or sublime. Beautiful objects are those that are "comparatively small," "smooth and polished," while the sublime object should be "vast in their dimensions…rugged and negligent," "the great ought to be dark and gloomy…solid and even massive." To put it another way, the Lightning Field is sublime, Judd's boxes are just precious. DeMaria's field of poles is physically and mentally disorienting, you can get lost within its vast scale, and the humming of St. Elmo's glow at the tips hints at the latent electrical energy contained within the poles. In New Mexico, the polished steel of the lightning field is left exposed to the elements in the desert hardpan, giving the whole field a muscular vulnerability, while Judd's boxes seem weak, entombed within the sterile, repurposed shell of a former army barrack.
The shell also works against the implied perception of the infinite field. However the qualities of a limitless industrial material like milled aluminum only enhances the notion that these boxes are a swarm of a whole that is beyond comprehension, like "sections cut from something infinitely larger," as Judd stated in his Specific Objects in Complete Writings. It is standard to discuss the critic Michael Fried and his critique of minimalism's perceived theatricality when talking about Judd—specifically his aluminum boxes. In Fried's view, Judd's use of such coldly industrial materials in a banal array denies the viewer the safety of a recognizable 'art' object and therefore requires the physical participation of the viewer to activate the work. Chinati would seem to be denying this interpretation by regulating that groups tour the boxes at approximately 10:45 every morning. The summer sun in west Texas is still relatively low at that hour, and, in rejecting the opportunity to experience the metal as it changes with the day's light, Chinati ignores the theatricality of the objects, instead reinforcing the notion that the Judd boxes need neither viewer nor gallery. They need only the space of the military barrack—the golden light of dawn and the harsh high noon sun are inconsequential to the reading of the work. Again, a comparison to Lighting Field is in order. Where de Maria required the visitor to spend 24 hours with the work, Chinati asserts that 15 minutes in harsh, unchanging light is sufficient, and one is left to only wonder at the brilliance that could be seen in the golden glow of a Texas sunrise. Walking amongst the mute stainless boxes, I was reminded of the sunrise in New Mexico, and Marfa can only pale in comparison to that powerful experience.
Judd's latent power comes to the fore in the 15 large-scale concrete works scattered across a field of tall prairie grass at the edge of the Chinati grounds. Here the viewer is free to move about at their leisure (the cubes are not part of the official Chinati tour), alone in the landscape. The cubes are varied, massive, and fighting a battle with the environment. The struggling chutes of weeds peeking from between the joints of the slabs produce the feeling of vulnerability and a more symbiotic relationship with the landscape. Alone on the isolated West Texas plains, with only the architectural scale cubes for companionship, you briefly forget that you're in the middle of a small town full of people struggling to live their lives. And you suddenly have faith that art can be great. Judd said "Art has a purpose of its own," and you can't imagine it existing anywhere but here. And if a Wal-Mart threatened to appear across the highway in this last untouched paradise, it would be an abomination worth fighting against. But Judd also said that "society is basically not interested in art," and he was wrong. The last 25 years in Marfa prove him wrong. Regardless of society's interest, art is there driving the market. In the end, one is again reminded of another box, the box of the Marfa Prada along the highway. Because the Judd boxes aren't really empty, they are selling another product for consumption. The product that is for sale within the concrete bunkers or the cool, steel boxes aligned in a row like a showroom, is no less real than that which is imprisoned within the ersatz Prada store up the road. Only what Judd is selling is less tangible, more elusive, but still real: a lifestyle imbued with authenticity, good taste, and affluence. I could feel the pull, the easy choice, but ultimately it was something I couldn't afford.
And with that, I drove back east.