There is Tijuana and there is a New Tijuana. Tijuana is easy. You don't have to look very hard to find it. As soon as you walk over the border you're in the thick of it, a dust-encrusted Candyland where you can buy a churro, pharmaceuticals, a miniature guitar, sit on a droopy-faced donkey painted to look like a zebra, all while being serenaded by a group of hungry looking mariachis-for-hire in loud pants. (Literally—there are bells clipped to their outer seams.) You're on the Mexican side of the border, but here in Tijuana that palpable feeling of barely concealed, easily dischargeable, violent tension that was so strong in Juarez is missing.
Lest you be lulled into complacency, New Tijuana, on the other hand, is a different story. It's everywhere to the east, in the pale masses of washed-out shantytowns and factory housing. It is more difficult than Tijuana – you have to go looking for it. It is where there are estimated to be over one million people living, comprising almost half the total population of Tijuana in a parallel zone primarily occupied by factory workers, migrants, and laborers. In Tijuana 95 percent of the city's homes have a solid floor; in New Tijuana that number is closer to 25 percent. New Tijuana is where nearly 80 percent of people lack running water and an operational sewage system, but where simultaneously the unemployment rate is less than 1 percent (Mexico's average national unemployment rate at the same time was 7.4 percent). The percentage of the population that works in New Tijuana is 10-15 percent higher than the rest of the city and it has been supposed that there are in fact more jobs than available workers. 35 perecent of New Tijuana's workforce is employed in the maquiladora sector. The lack of an adequate workforce provides opportunities for immigrants from all over South America, who, in turn, comprise more than a third of New Tijuana's population. Those people need housing. New Tijuana expands by five acres each day. New Tijuana is the future.
The growth of the Tijuanas in the last 25 years is unprecedented. It has been frenzied, loose, and extremely informal. No cohesive formal plan exists. It's a new model of improvisational urbanization that requires neither long-term thought nor infrastructural support, but rather quick thinking, cleverness, and adaptability. Shit moves fast here. Speedy Gonzales isn't some kind of crude cultural stereotype; he's something to aspire to. City infrastructure can only try to keep up with the manic pace of construction. By loosening the bonds of city infrastructure, potential newly liberated schemes for urbanization arise. And moving in lockstep with the creation of the new is the decay of the old. Smithson's Spiral Jetty introduced the concept of entropy into the constructed ecology of the West, and the settlements of New Tijuana provide another example of the productive, transformative value of reappropriation and entropy. The surplus piles of tires become walls and fences, discarded vinyl advertisements become weatherproof roofing, palettes, cinderblock and plywood are mixed at will. Like the Spiral Jetty rising out of the Salt Lake anew, New TJ is constantly reassembling itself into some new amalgamation with the remains of the old. Tijuana warrants a retroactive manifesto to parse and make sense of what has happened here in the last 25 years, a manifesto that will formulate a constructed argument regarding alternative future potentials for other built environment based on uncovered models that exist here in the border region. The argument would start with the speed of the informal settlements.
They build 20,000 houses a year in New Tijuana, constructed from whatever mix of available building materials and cast-off detritus that can be recycled and reconfigured into something that vaguely resembles inhabitable space. Here, the only demand is that it have a roof (and even that seems somewhat negotiable), and without regard for anything so outmoded as building codes or permits, they build wherever and everywhere they want, armed with only the most provisional of land ownership titles. In Tijuana squatting is considered an inalienable right. Architecture can't compete with that. No way—it's too slow, too dependent on ego and sponsorship. Tijuana is fast, self-determinate, and horizontal. This is why so many architecture schools love to use Tijuana as a site, every frustrated architecture student sees themselves in each resident of Tijuana, a place where the people daily recreate and then transcend the abstraction of the studio and provide a setting where it really is possible to dream something up and build it, with your own hands, devoid of those slow, un-fun things like budgets and engineering seals of approval that architects struggle with every day, but seem so oppressively foreign to a student in a studio environment. In Tijuana you don't have to worry about any of that, it's design/build without any formalist pretensions.
But don't get me wrong, I'm not trying to romanticize what are, in essence, dangerously unsanitary habitats lacking in many cases even basic, minimum quality-of-life essentials like light, clean water, sewage systems, and electricity. But that kid standing there in the dark, next to an open sewage canal, lighting a candle is wearing a Kobe Bryant Lakers jersey and blasting the Black Eyed Peas on a Panasonic boom box that was probably manufactured less than a mile away. You can't help thinking about all the other boom boxes that were exported North, and all the people who then bought those same boom boxes, and the relief and comfort all those people felt at seeing the same everyday low prices they've grown accustomed to, and would probably angrily demand be provided back to them if somehow the torrential flood of cheap goods were suddenly cut off.
Anybody can see that manufacturing a crate of boom boxes for $15 makes more sense than shelling out $90 for a unionized, benefits-hogging American worker to do the same. I mean, I don't begrudge the idealists and their inescapable feelings of First World Guilt. The twin cities of the border have always engaged in an exploitive economic embrace, one twin is bigger, the other is richer. But when confronted with the overwhelming realization that this situation is so inevitable, so completely entrenched and self-perpetuating, just bemoaning the North's entitled status seems too passive and pretty boring. Anger is one way to go, and that typically arises from the sight of the slums, the Lakers jerseys, the Ford trucks, and the maquiladora housing all impossibly coexisting, and the urgent thought that can't be resisted—that somehow, this is all our fault. And you have to deal with that in some way. Or, you can try to idealize the situation, in a getting-back-to-the-basics, "authentic" kind of way.
The North American communes of the late 1960's tried this, but they were only self-consciously adopting some of the principles of informal developments and, not surprisingly, they quickly and inevitably collapsed. While the California communes, including Morningstar Ranch and the Whiz-Bang Quick City, were superficially similar, they lacked something like the desperation of New Tijuana. (I hesitate to use the word desperation, but I think what you see in New Tijuana is akin to something along those lines.) New Tijuana is less a home and more of a way station to compose a strategy for escape, which is a pretty desperate concept in and of itself. The other way to confront it is to approach it from a position of self-congratulatory benevolence. And when Architecture with a capital "A" does try to get involved, well, that way lies the madness of modernism. The oppressively bureaucratic, welfare-state housing policy approaches from the mid-20th century have unquestionably failed, sometimes explosively (or more excitingly: implosively, seePruitt-Ingoe).
Tijuana is bigger than all that, and I guess that's what I find so fascinating about it, the tangled up mix of impossible ecologies that make a city like this seem on one hand so inevitable and yet strangely great and new, not in spite of, but because of the conflicts and paradoxes. Whatever your opinion on globalization and the exploitation of capital, the necessity of an interventionist or weak urban policy, the vagaries of national security, whether you're pro one side or the other, you should spend a little time in Tijuana. You'll come back convinced of the necessity for both, all at once, unable to formulate why this simultaneity of opinions is thoroughly inexorable.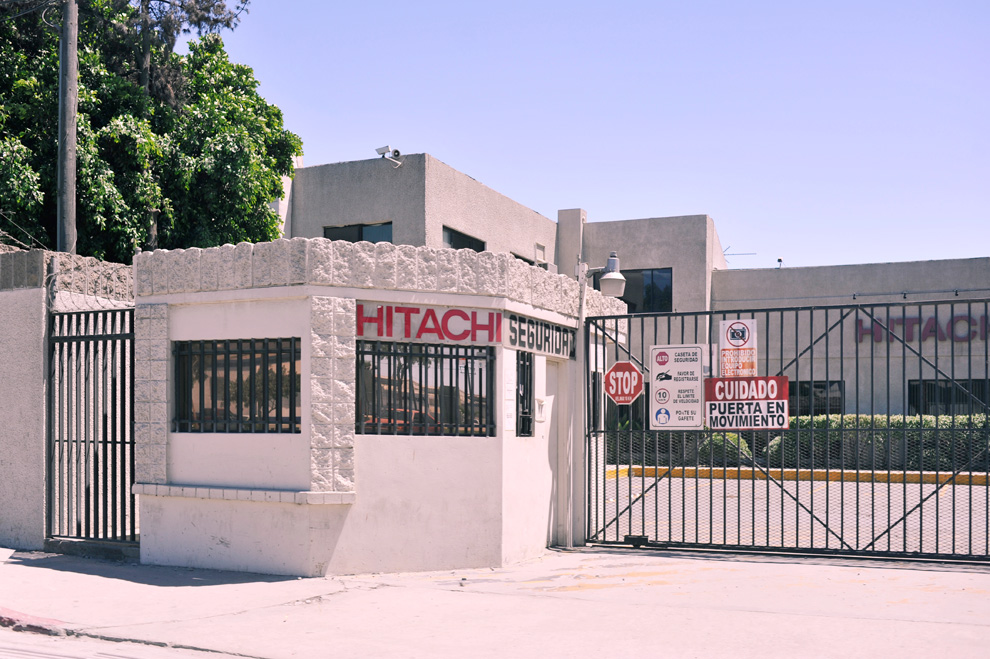 But it is. So where does that leave architects? As an architect, I'm naturally disinclined to argue for my own field's redundancy, but it's hard to deny that the traditional top-down, architectural design process lacks the frenzied urgency that Tijuana demands. They're building 1,600 houses per month because there's a vacuum there where people need housing, and they have the ingenuity to fill it. But what's being built now is really only serving the narrowest of stakeholders' interests, whether that is a gated subdivision for upper-middle class families, migrants' informal slums, or the maquiladora industry's need for rows of factory housing. You have everything that runs the gamut from the rigidly planned to the totally out of control, and somewhere in there architecture can stake out a position, somewhere in that sweet spot between the formal and the informal, where architecture can interweave all the threads of rich and poor, old and new, individual and community. But anytime architects try to force their way through that hierarchy of competing interests, the initial vision becomes muddled beyond recognizability. For instance, I've seen amazing designs languish in the development hell of the "design review" process where every stakeholder from the mayor to the donors to the various owners each have to tweak something to their liking, which by themselves aren't that big of a deal, but taken in aggregate begin to compromise whatever measure of integrity the architect believed existed in the first place. Trying to maintain any sort of unified creative vision in the face of that kind of opposition is ridiculous. And that's in a normal situation.
There's nothing normal about Tijuana, however, but if style is cyclical then you can't help but notice that the answers the radical urbanists were playing around with in the late 1950s and '60s were certainly prophetic in anticipating the urgent necessity for new solutions to housing the masses of displaced people and migrants caused by the second World War. And here, as in Tijuana, the solutions were cheap to manufacture, simple to transport, and infinitely variable.
But where it got really interesting was when these guys – especially the Israeli Yona Freidman – started thinking that the architect really wasn't as important as modernists thought. Form became something that was undefined and primarily subservient to the needs of the inhabitants. In other words, a functioning city is not made up of the material buildings, but rather the infrastructural utility networks and systems of streets and walkways. The architect's first responsibility is to ensure that these systems are in place, and this should precede all other formal proposals. The network of systems in play in Tijuana vastly exceeds the grasp of a singular architect. How could any one architect plan and design for an inhabitant whose needs are constantly in flux—especially in Tijuana where changes can be drastic, fast, and dirty, and thus impossible for an architect to foresee?
The answer lay in the realignment of the artist-spectator relationship. The user — the inhabitant — would become the creator of his or her own built object and the architect would provide the infrastructural support for the user to plug in to. Process becomes the paramount driver of creation, while the final result remains an amorphous ideal. In this way, Friedman sought to codify the unpredictable nature of human behavior. And in his holistic world view, the erratic nature of each user's individual actions is allowed to disintegrate the false nature of central planning. However, a major contradiction is found within Friedman's Mobile Architecture. Friedman, the architect, still designs the framework — the system — into which the user is granted a somewhat specious level of freedom.
Elemental Do-Tank actually built something along these lines in Chile with amazing results. In an evolution of Friedman's "frame" and "infill" architecture, they took the minimum necessary program for a livable house and transformed that into the frame. The spaces between the homes are left as an open infrastructure for the people to infill with any program they may want. The infill accommodates everything from car repair shops to beauty salons, interwoven with another program.
But as great as these projects are, they are still something to be applied to Tijuana, not to be withdrawn and applied elsewhere. That's where things get more difficult and have to remain open-ended. That the future is fast and cheap is unavoidable; that speed and ingenuity will supplant history and the starchitect; that the amorphous and accidental will trump the defined and planned has to all be taken as a given. In the end, we have to stop worrying and learn to love the best of Tijuana-ization while overcoming the worst. In a world where the existing urban environment is a prisoner of sorts to its own aging infrastructure, Tijuana's notions of quickly composing and re-composing urban space in response to future events seems increasingly relevant. And the radical reimagining of the role of the architect, something rooted in modesty and a sincere desire for change in keeping with the possibilities afforded by technological advancements and popular participation, has to continue to provide new possibilities for a profession that suffers from a dearth of bold ideas.