A story in four parts: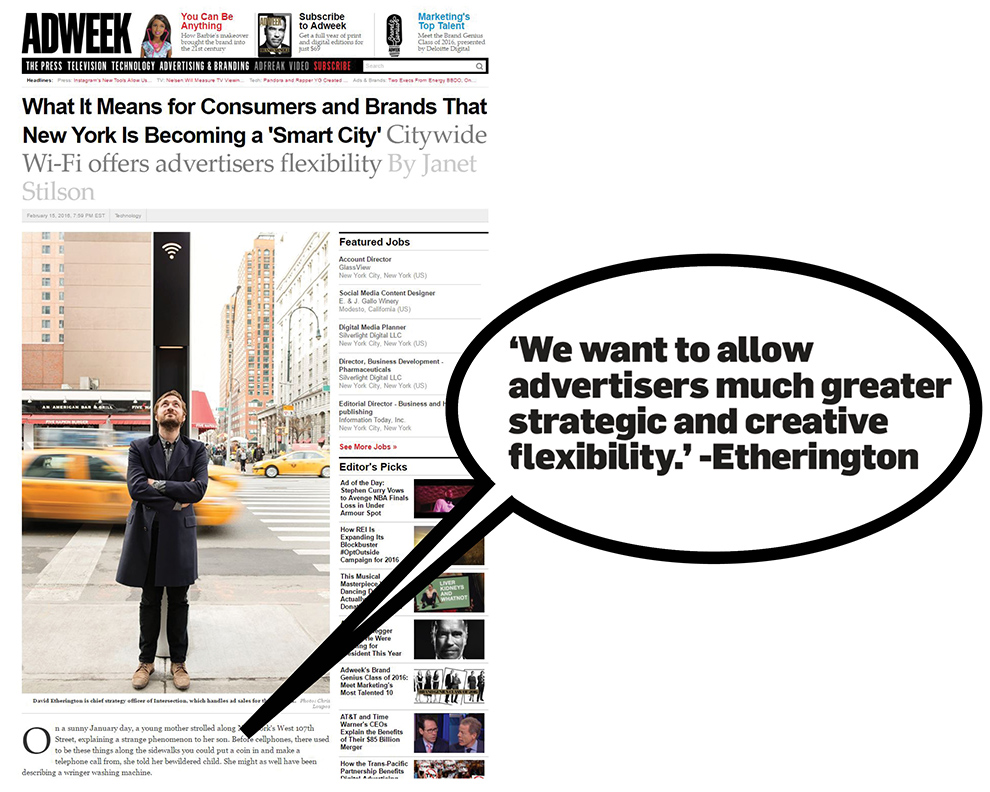 What It Means for Consumers and Brands That New York Is Becoming a 'Smart City'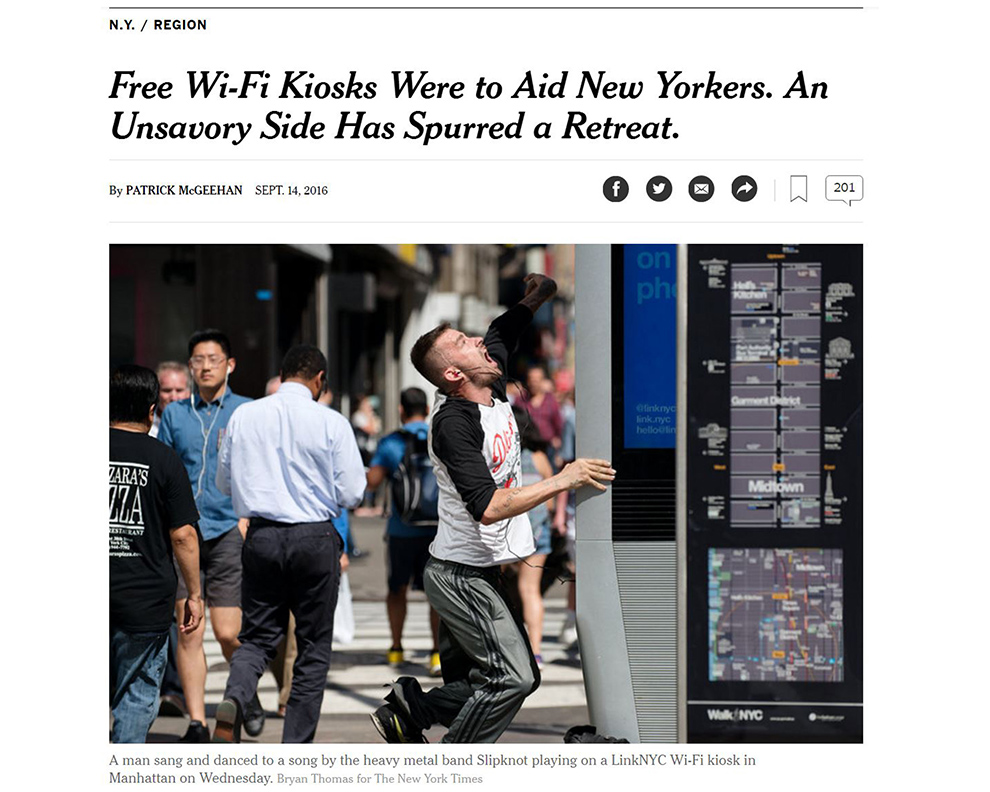 Free Wi-Fi Kiosks Were to Aid New Yorkers. An Unsavory Side Has Spurred a Retreat.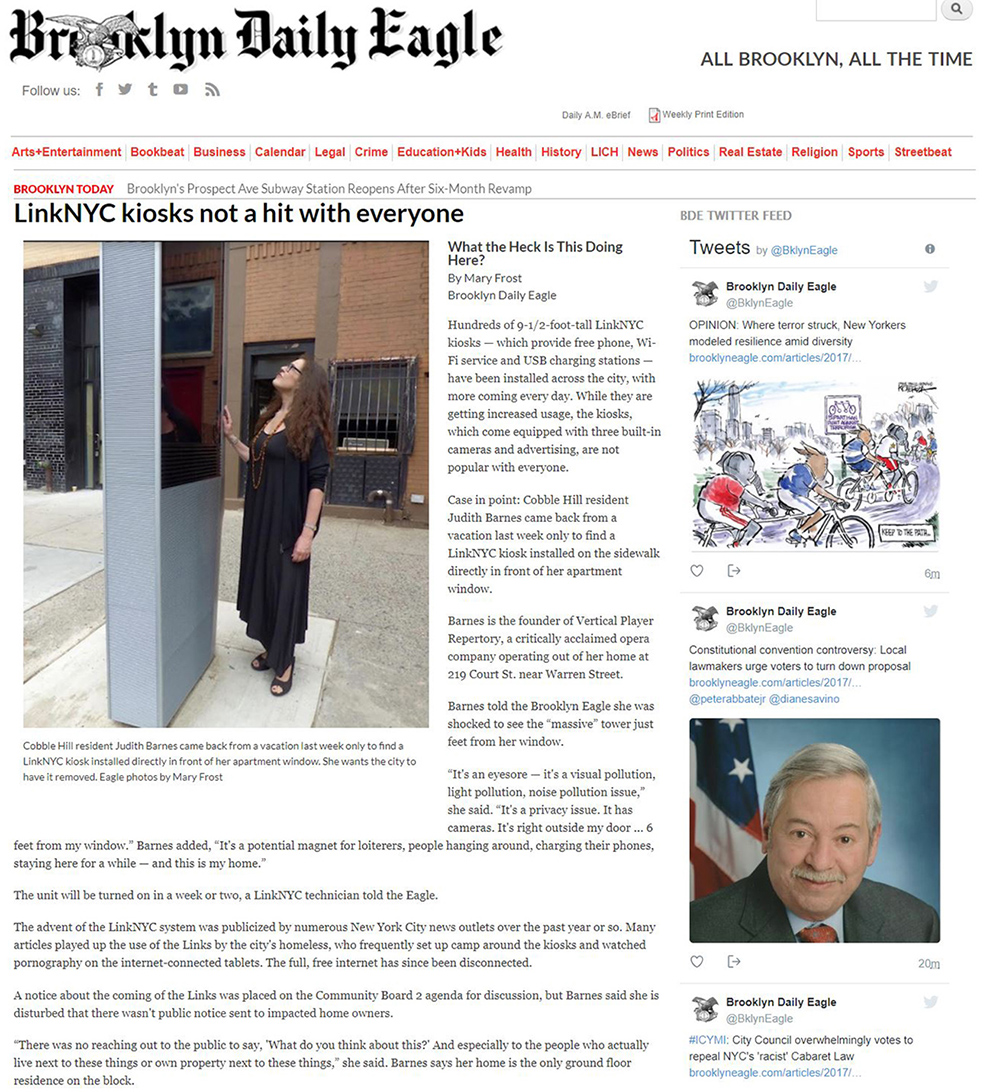 LinkNYC kiosks not a hit with everyone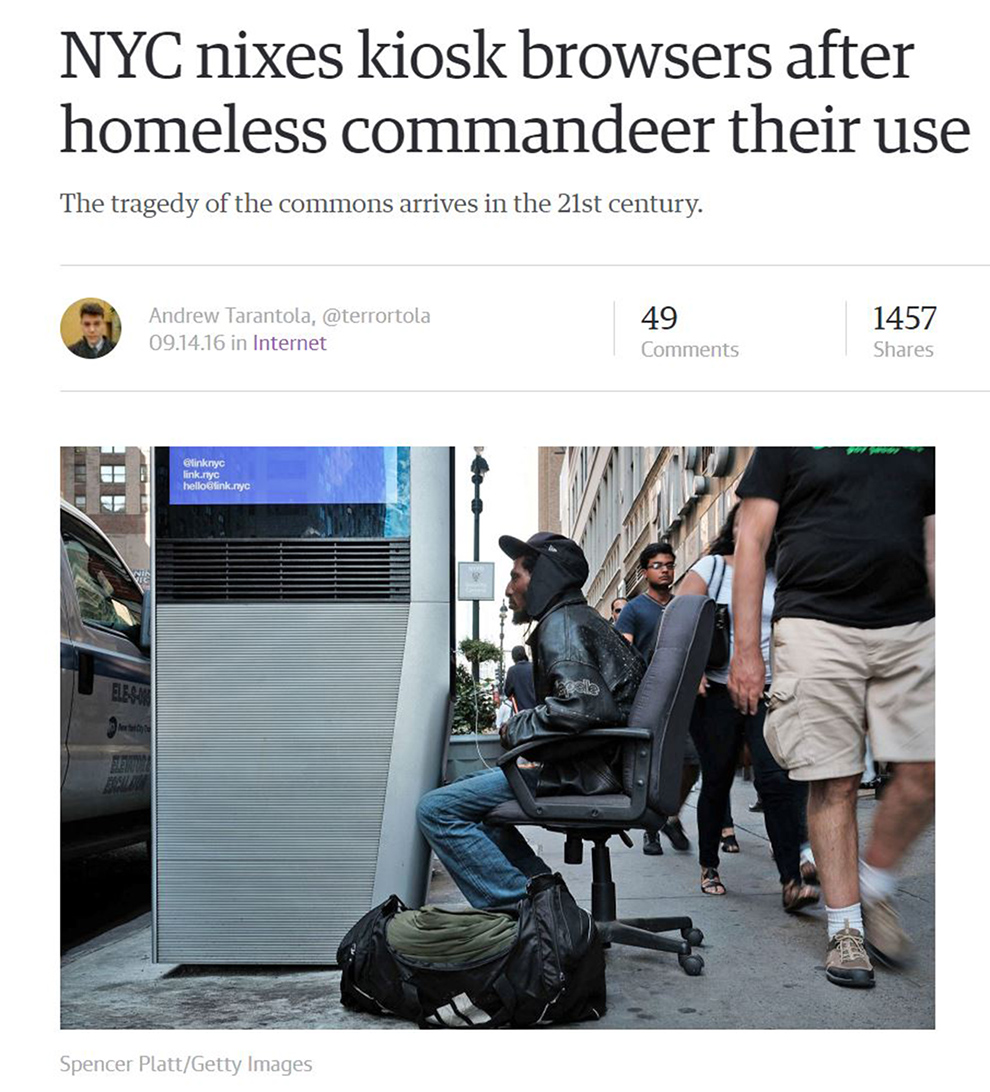 NYC nixes kiosk browsers after homeless commandeer their use
With little fanfare or prior warning, they began bolting the LinkNYC kiosks to the sidewalks in early 2016. Greeted with little more than a New York shrug, these were blatant pedestrian-scale digital billboards. An upgrade from the static posters on bus stops and phone booths. The trade-off for tolerating these new advertising intrusions was the promise of new "world-class" free wifi (of which an email address was initially required) and an internet-enabled, built-in tablet. Instantly, certainly apocryphal stories of rampant homeless porn-watching quickly spread, though a quick look through the offending media images showed that the concern seemed more to do with less desirable folks congregating and watching youtube videos or making voip calls instead of "moving along". It should also be noted that these kiosks are not evenly distributed throughout the city, but rather more heavily located uptown – either through the result of human decision-making or a black box ROI algorithm is unclear. Seven months after the initial roll-out, access to internet for all passersby was either completely shut off or severely curtailed, though the digital signs remained.
Our course at Columbia, Hacking the Urban Experience, is invested in architectural street interventions at a neighborhood scale. As it appears that the design and implementation of these is driven by public-private advertising concerns (LinkNYC's parent company is Alphabet's Google), rather than architects or city planners, the first assignment of the course looked at ways to both acknowledge that these things now exist on NYC streets and to non-invasively study ways that they can be adapted. In the same manner that steetlight poles can act as support posts for help wanted or missing person signs, how can the Link NYC kiosks adapt and provide actual value to the street?
Below are samples of prototypes that were constructed in one week, with the expressed goal of adapting and testing how simple acts and gestures can impact our relation to these structures and public space around us. These kiosks inadvertently provide a number of opportunities – the bright screen can illuminate objects, the usb ports are charged and can power a desk fan, and the invisible wifi signals can define an actual physical space. These interventions became the foundation of a framework to discuss who is public space for, and who can stop and enjoy listening to a song by Slipknot on the sidewalk without a resulting pearl-clutching article by the Times.