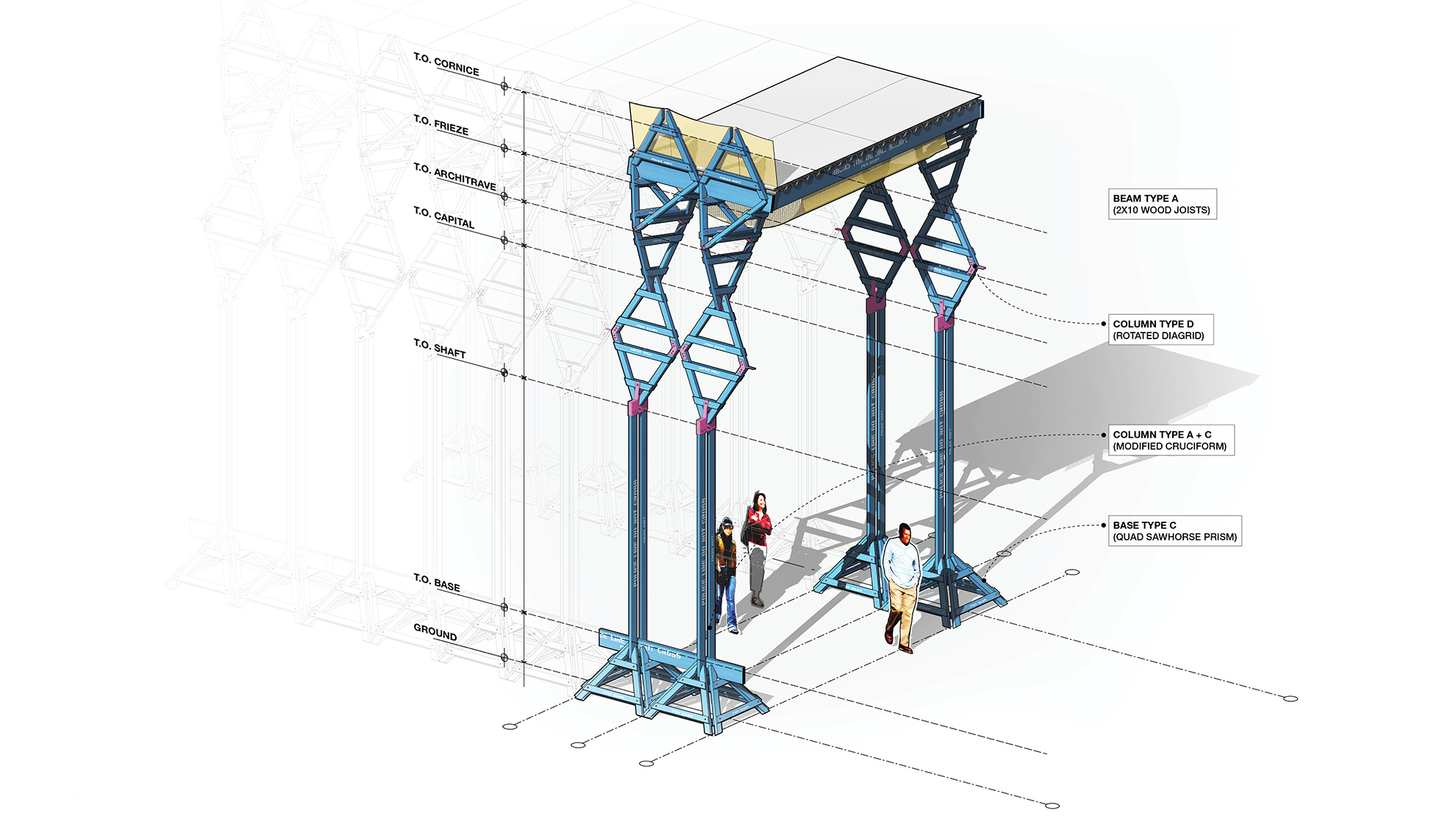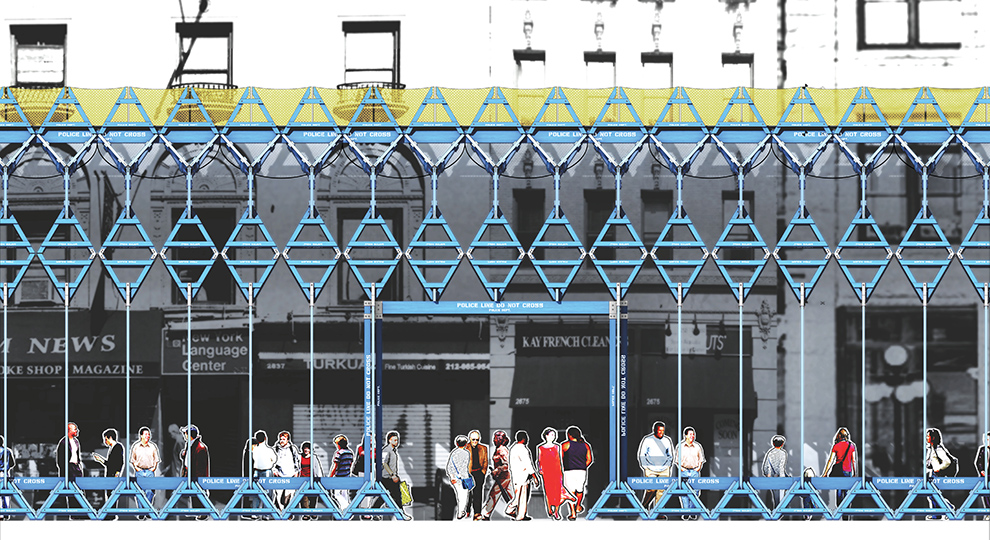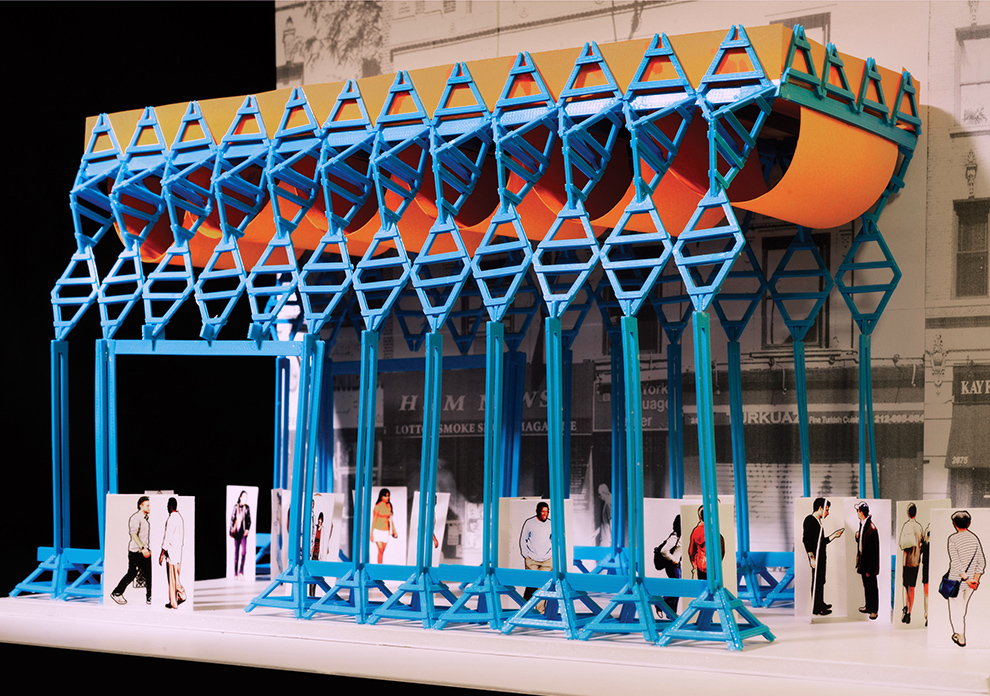 Presented here is a (losing) competition entry for a re-design of the ubiquitous "urban shed" – the pole and plywood constructions temporarily thrown up to protect pedestrians from falling building debris during facade renovations. They are an interesting typology, both because they are everywhere and are also built using pre-fabricated components in a completely market driven approach, every element has been pared down to cost per protective surface. Every couple of years someone tries and re-thinks these things, but due to the cost and existing, entrenched interests, these re-designs never go anywhere. The argument I was trying to push was twofold: 1) taking advantage of an existing material that already relates to street protection could offset costs, and 2) that the design would be exciting enough that building owners could reap some economical benefit through a boost in traffic flow by putting up something like this. Project text below:
A city manifests itself through its architecture, its built form represents its values and priorities. This ideas competition hosted by the New York Building Foundation is an amazing opportunity to explore how the city and building owners will proceed to treat what is in many ways the most modest and ubiquitous of architectural elements, but one that we all encounter each and every day – the construction shed.
The questions before us are simple, will the form of the shed continue to be dictated by that which presents the perceived lowest cost per sf? This is a notion dictated more by complacency and inertia as opposed to New York ingenuity and data-driven metrics. Or, will the shed evolve into a form as slick and scaleless as the latest glass and steel construction, furthering the ever expanding gulf between New Yorkers and relegating architecture and engineering to the realm of a luxury item. Or, will it pursue a sustainable, iconic, human-scaled solution, which can adapt to changing needs in neighborhoods as diverse as ours?
The proposal included here envisions a future construction shed built from reclaimed NYPD wooden sawhorses. These sawhorses were retired in 2007, but they are still available for donation and hold a prominent place in the collective consciousness of the city. Their familiarity with New Yorkers imbues them with an ingrained acceptance to their position as part of the urban streetscape – like seeing an old friend again, but their novel use here, elevates the basic construction assembly into an uplifting form that makes the shed into something more than pure tectonics.
They also present us with an opportunity to acquire a readily available, highly-durable material for a low-cost. In a practical sense, the sawhorses in their previous life as crowd control devices had to withstand a number of structural requirements. Here, the existing sawhorse connection techniques – slotting, nailing and screwing – are used again, this time to withstand a vertical load through multiple connecting load paths and redundant connections that will meet and exceed Section 3307 of the New York City Building Code. Wood also allows for ease of assembly through cutting of pieces and through the use of inexpensive attachments and fasteners as required.
Lastly, this design represents the transformations inherent in the evolving city over the last 50 years. The NYPD wooden sawhorse material here is no longer one that restricts movement and creates artificial barriers in urban space, but rather it is put to a new purpose, one that enables free and open movement while providing shelter and protection for all.