I had the pleasure to teach a course this semester with a great group of young architects and urban designers, titled "Hacking the Urban Experience" at Columbia. I couldn't be more proud of all the hard work and the high level of engagement with which the students approached the class. All lectures and process work are archived on the class tumblr: http://hackingtheurbanexperience.tumblr.com. Classes typically took the form of lectures on precedents and concepts, a discussion of student work and tutorials on materials or software techniques. Topics during the semester included overviews of unsolicited architectural proposals, building-scale light projections, inflatable materials, urban siting opportunities and community/crowd sourced funding.
The course sought to assert the relevance of the fabrication skills at our disposal as potentialities for social and environmental relevance. Through the re-appropriation and re-imagining of existing urban conditions, the students designed and fabricated working prototypes that embraced the messy reality of our city and promoted community involvement. The students began by identifying a quality of the urban condition that included the latent capability for improvement and worked toward fabricating an adaptive, responsive and environmentally viable solution. Specific emphasis was placed on testing and exploring through hands on research the possibilities of detailing and fabricating connections using unorthodox materials. At the conclusion of the course the students produced a full scale urban intervention and observed and documented their relevant successes or failures.
Material workshops were held to encourage the students to explore constructions from inflatables to parametric agglomerations using quotidian materials. Ultimately, the goal was for the students to come out of the course with a healthy respect for two core concepts: firstly, an increased skill in the use and applicability of the fabrication skills we have developed for solving design issues using unorthodox materials in unconventional settings; and secondly, that there is an opportunity for architects to regain lost relevance by inserting themselves through unsolicited proposals into the public consciousness as steward's of urban well being.
Students:
Jared Dignanci, Farzin Lofti-Jam, Ehsaan Mesghali, Katerina Petrou, Paul Tran, Wassim Shaaban, Maryam Zamani
Assignment 01
Part of the Atlas of Urban Connections project (TBD), the first assignment involved designing and fabricating a joint to connect something, anything, to a vertical street extrusion (such as a tree, street sign, light pole, etc…). The members of the Public Works Department in NYC are masters of improvisation, you can see it walking down any street here, and there is a lot to learn from their successful and not-so successful techniques for attaching to existing sidewalk infrastructure. This assignment was prepared to introduce the student to the capacity to breaching the gap between the pedestrian and existing streetscape objects, with the goal to test flexibility, safety, durability, adaptablility while exploring different possibilities for potential synthesis with existing urban forms.
Wassim, Katerina, Paul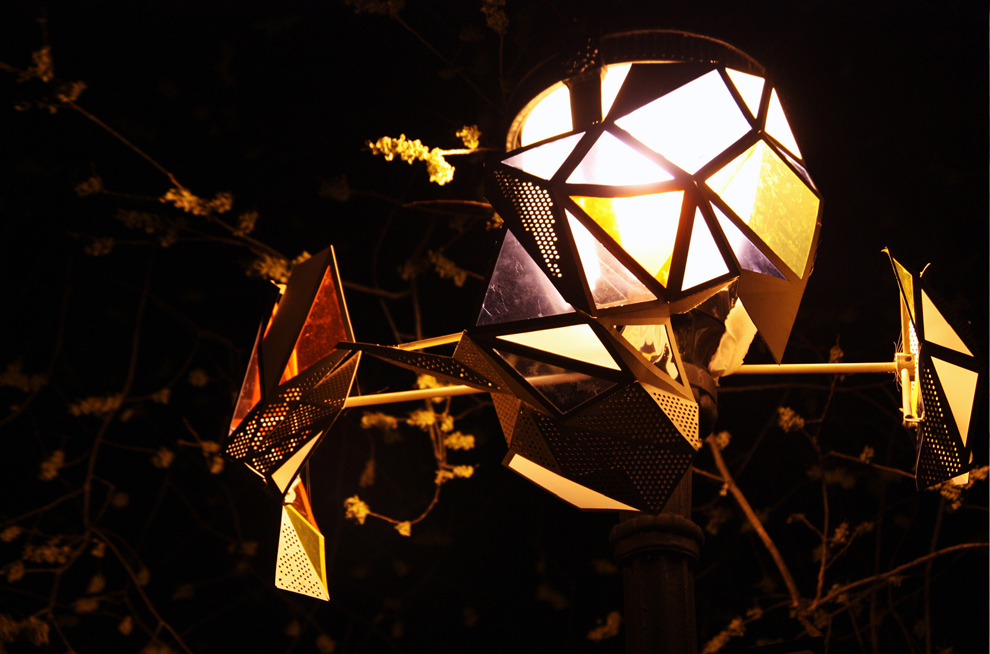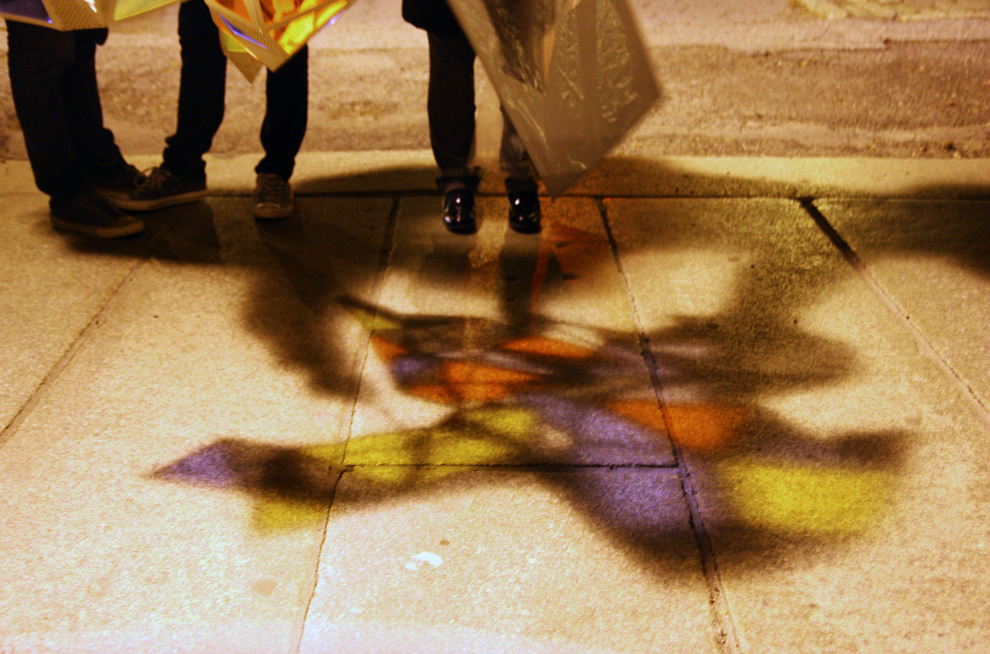 Assignment 02
Using Graffiti Research Lab's projection bombing tutorial at Instructables, the class set up a mobile power station using a 75V marine battery, and set off around the neighborhood near Columbia to experiment and throw up some interactive light projections.
The last year has seen some truly inspiring displays of the potential light can have as an interventionist tool, and the class studied this problem using three main strategies: 1) messaging independent of site, i.e. you only need a blank wall, 2) site dependent projections, like those following the curving, horizontal bands on the Guggenheim, and 3) flexible projections that can adapt and interact to a number of different sites, taking advantage of the unique characteristics of each. Care was given to create projects that both actively and passively engage those passing by the site.
Wassim, Katerina, Paul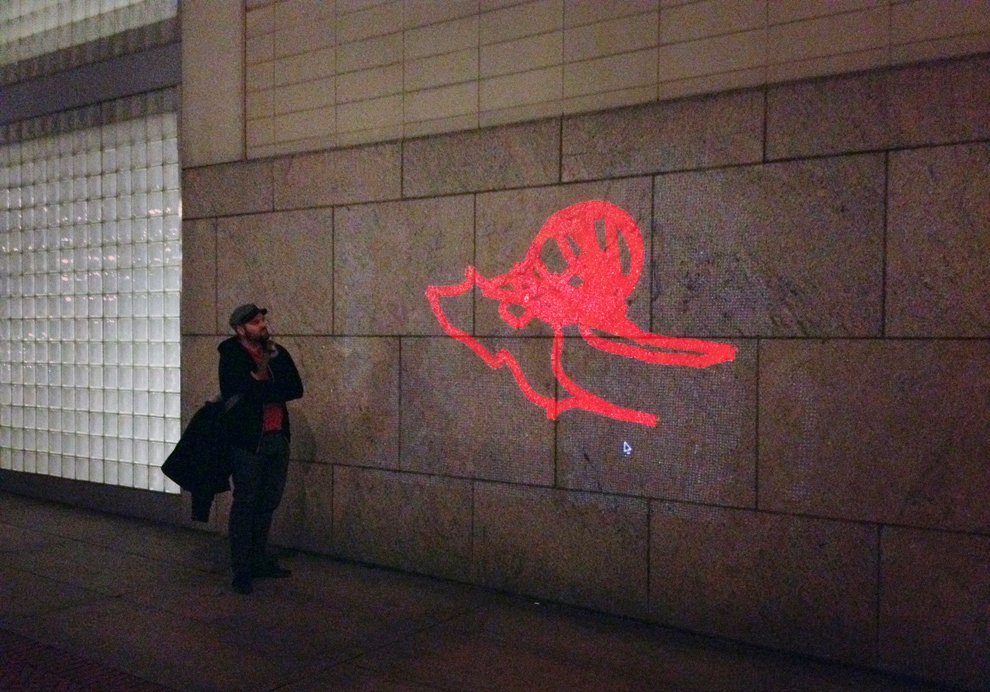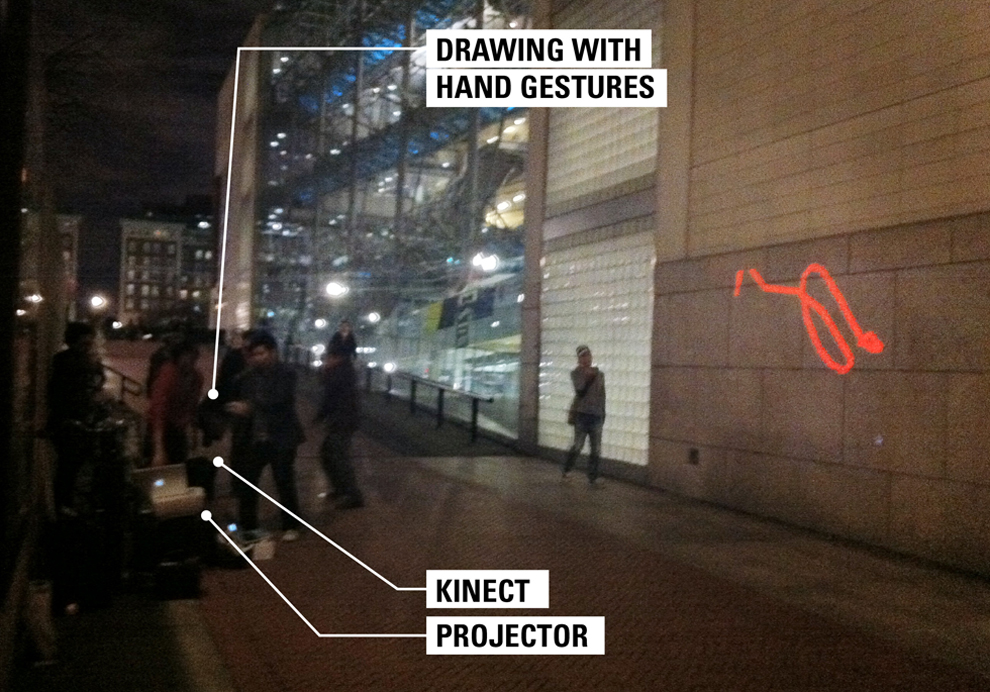 Assignment 03 (FINAL)
Building off the first two assignments, the final assignment sought to synthesize the work and concepts of the class into a larger installation that could still be completed in our very tight time frame, but started to explore the core ideas of the course, in effect becoming a proof-of-concept, working model. By attempting to capture a broader audience for architectural interventions, a number of questions presented themselves and the students were challenged to anticipate a range of possible eventualities – how will it be used? Can its use be changed? Is it durable? Is it waterproof? Can it safely stand up? Fabrication was considered less from a formal quality, and more from a use, durability, improvisation and public participation viewpoint.
Ultimately, A successful project would accomplish three things: 1) display ingenuity in fabrication technique and material 2) re-imagine or re-design a specific urban site/condition to take advantage of its hitherto hidden potential, and 3) have a performative component, in that the intervention has a temporal quality that while engaged promotes public interaction.
Wassim, Katerina, Paul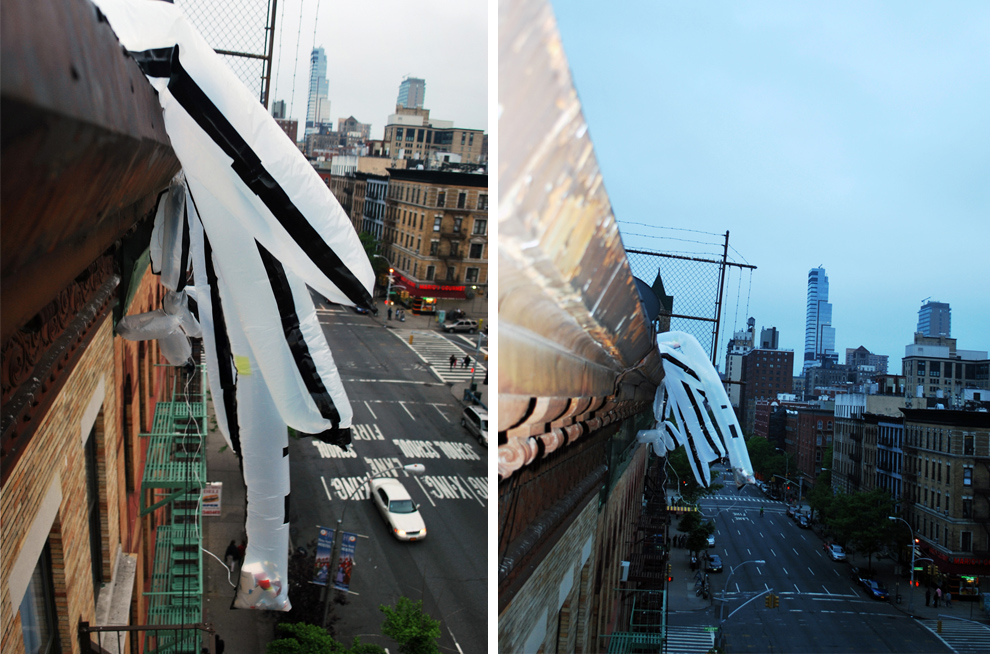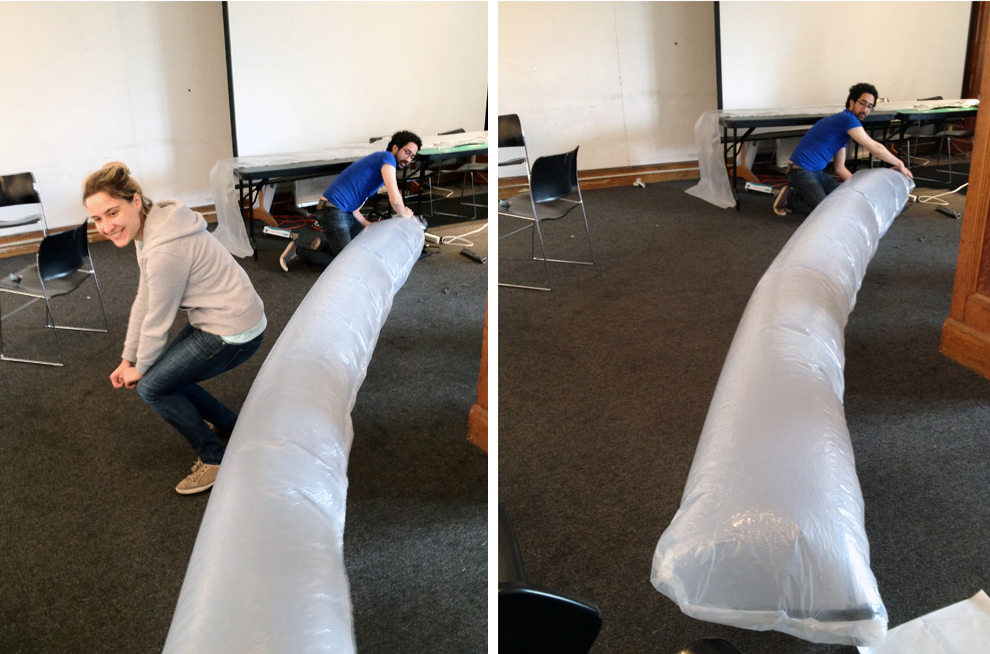 reply