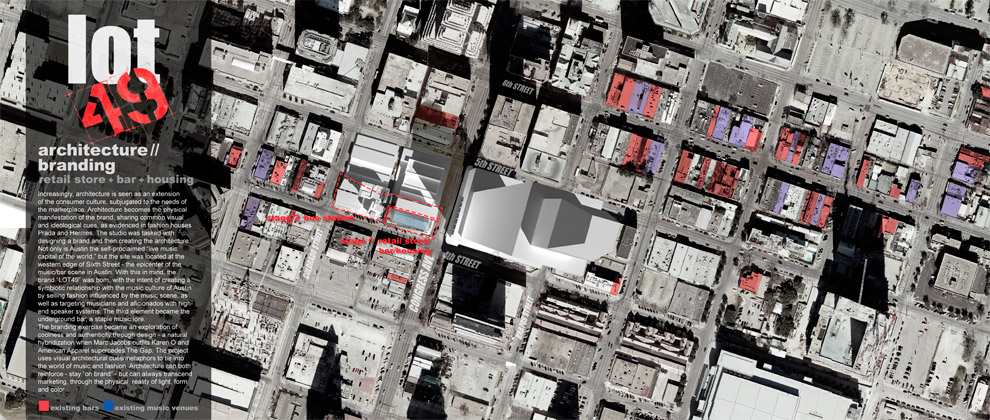 Increasingly, architecture is seen as an extension of the consumer culture, subjugated to the needs of the marketplace. Architecture becomes the physical manifestation of the brand, sharing common visual and ideological cues, as evidenced in fashion houses Prada and Hermes. The studio was tasked with designing a brand and then creating the architecture.
Not only is Austin the self-proclaimed "live music capital of the world," but the site was located at the western edge of Sixth Street – the epicenter of the music/bar scene in Austin. With this in mind, the brand "LOT49" was born, with the intent of creating a symbiotic relationship with the music culture of Austin  by selling fashion influenced by the music scene, as well as targeting musicians and aficionados with high-end speaker systems. The third element became the underground bar, a staple music lore.
The branding exercise became an exploration of coolness and authenticity through design – a natural hybridization when Marc Jacobs outfits Karen O and American Apparel supercedes The Gap. The project uses visual architectural cues/metaphors to tie into the world of music and fashion. Architecture can both reinforce – stay "on brand" – but can always transcend marketing, through the physical, reality of light, form and color.
This was also the first paperless studio project I worked on. I was fumbling around with lightwave 6.0 all semester. It's incredible how far technology has come in four years.
reply