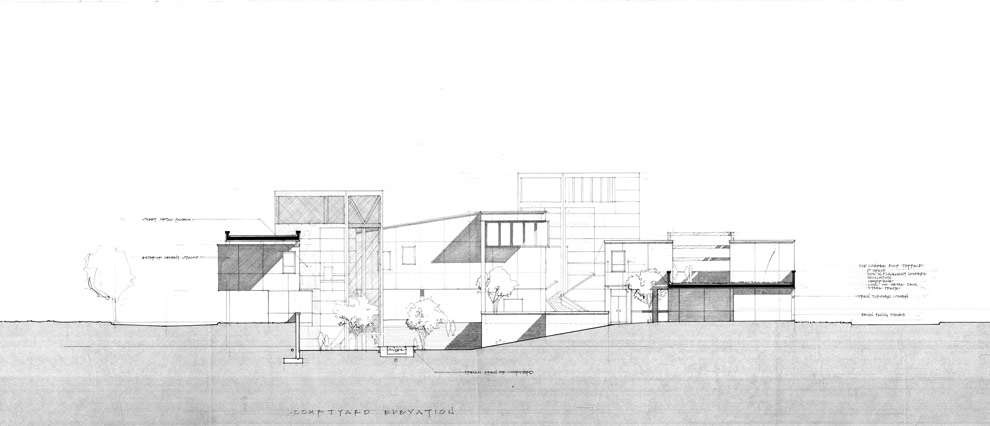 The program called for a combination of leisure activities that any college student is well acquainted with: bowling, drinking and washing laundry. The design reflects some of these playful qualities while also creating a ground, a city within a city. The building is meant to provide a strong presence in an area where the inhabitants are recycled every four years – perpetually created anew.
The design is separated along program and wraps itself protectively around a central sunken courtyard that provides shade and solace. The line between inside and outside is blurred through the use of roof gardens, cantilevered overhang spaces and the absence of a traditional central front door to the business. As opposed to one central building, the programmatic elements are separated into a collection of buildings, meant to evoke the layout of a college campus. Inhabitable outside void spaces were key and provide open areas for outside cafes and meeting spaces. Also, each program is expressed separately to accommodate differing hours of operation. The space is unified by a consistent structural grid of 20 x 45 feet.
The mechanical and support areas are articulated in a grouping of vertical towers. The towers reference both the separate programs as well as reinforce the idea of a place in and of itself. The building's service areas contain vertical circulation, and the roof-packaged air conditioning units are localized in these towers. The collision of the service towers and program areas creates areas of complexity and spatial interest, while referencing the transient nature of the patrons and the interstitial urban gridwork of the University corridor.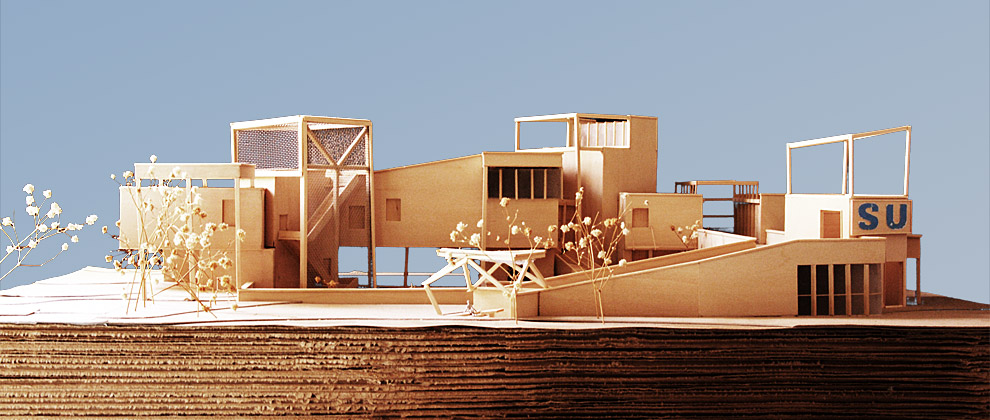 One Response to "suds entertainment center // 2003"
mad.architect Says:
April 23rd, 2011 at 6:59 pm

there is something sexy about seeing good hand drafting for a design project. Even more so when the project is so beautifully designed. Good job
reply