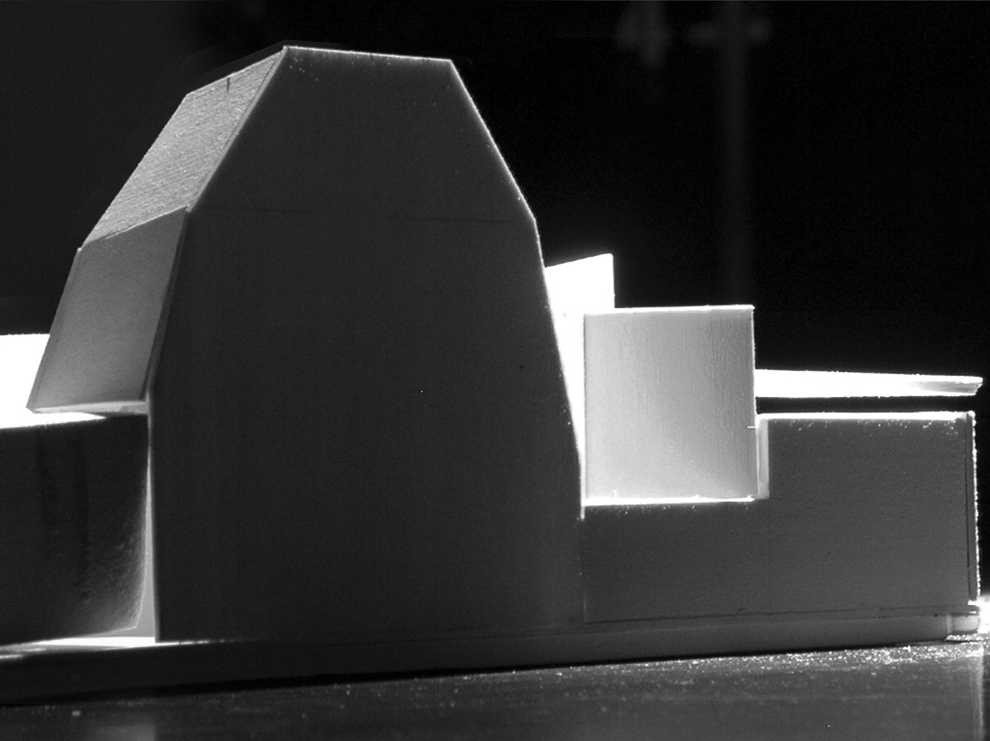 Architecture is a game of limits. Some studios work within the confines of context, program and site, here we explored limits that were more intangible. The studio worked directly with a strong emphasis on space, shape, color, light, shade and shadow. We searched for limits, letting function simmer while heating up the form. We explored limits in three shape studies in a variety of form and media: 1) Two dimensional shape black and white paintings 2) Three dimensional car/truck bondo shape studies and 3) Building design studies: proposals for an automotive body shop and paint shop.
An early limit arose from light illuminating a distant plane, while backlit shapes filled the foreground, creating space and hope, and drawing the worker into his business. I also advocated the use of a strong void space. The black and white paintings evolved from logocentric gestures, yielding overlapping spaces where smaller elements could be brighter than the whole. Contrast functioned as a powerful space-making tool within the project, as well as with the neighboring context. The play between soft, near edges; and farther, harder planes influenced much of the car/truck shape-making, as well as issues of silhouette, color and perceived mass.
Learning about the site: As part of our analysis of the site, we moved beyond standard topographic information. Frequent visits to the site, meeting people, and making sketches, paintings and photographs led to a fuller understanding of the area and yielded a building intervention that had a deeper relationship to the intangibles of the area.
Learing about the culture: Residents of the neighborhood live in the same house they were born in, the same house their grandparents were born in. It became necessary to meet with people and hear their stories and opinions. Local institutions and neighborhood history became additional site considerations. From this extemporaneous, improvised neigborhood, the studio work took on a messy quality that reinforced the sense of immediacy.
See the second part of the studio here, shape and color.
See the first part of the studio here, black and white shape paintings.
One Response to "shape studio 2005"
john locke » Blog Archive » car/truck shape study Says:
January 24th, 2009 at 8:35 pm

[…] The perception of color is relative. The interaction of multiple colors creates a new relationship that alters the nature of the individual shades. The light quality in the project is important to the reading of the building shape, therefore, stable colors were chosen that are also dull, cool and light. The value of the red/blue colors were the same, creating an underlying unity while also influencing the perception of the forms reflecting in sunlight – and hidden in shadow. The colors reinforce the overall formal gesture while maintaining the indivual integrity of the facets. This was the third component of the Shape Studio, the first component can be viewed here. […]
reply