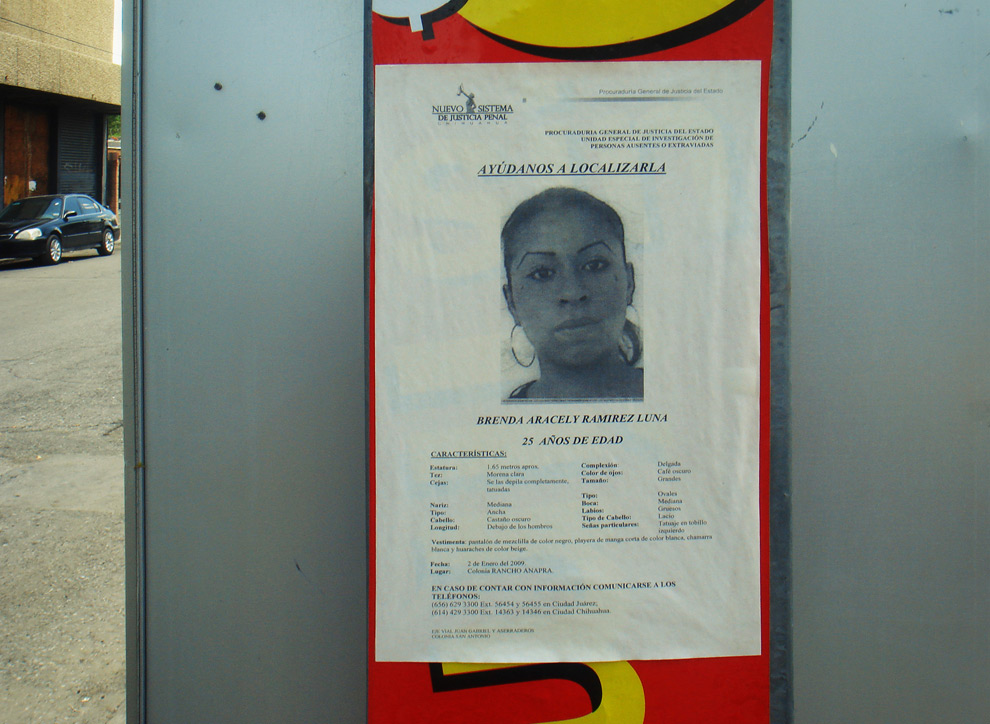 In Juarez they don't even bother trying to keep an official tally of missing women anymore. Once you start getting into the thousands it's futile for an overworked (and incompetent, corrupt, complicit) local law enforcement system to record so contemptible a number that in the end only serves to underscore the enormity of their own failures. It's easier just to count the bodies. Which, according to Amnesty International, since 1993 now number over 400. Typically workers in the maquiladoras, the victims are a mix of local and South American immigrants, universally poor, and their bodies are found weeks and months later abandoned in the desert, oftentimes tortured and sexually desecrated.
That in and of itself is profoundly depressing. What is also truly disconsolate is how through its sheer ubiquity, great evil becomes banal. Street after street of yellowed missing persons posters shatter the fragile veneer that there is controlled order to this place and lead to the realization that all is not right, that the strong do prey on the weak, and that the powerless have no recourse. It's not apathy so much as acceptance – a resigned shrug that this is just part of the urban space here.
The urban space is contested on multiple fronts. After the third open-top humvee, complete with six-man coterie armed with fully automatic assault rifles rolls by you become aware that the streets are being reappropriated as a staging ground in a long running, low-level civil war between the state and the federal police. After spotting the fifth hummer (complete with mounted anti-armor .50 cal gun) parked in front of a taco stand outside Plaza Benito Juarez, the novelty of being able to walk over a bridge and in the span of five minutes be immersed in two very different realities began to fade.
But don't get me wrong, I think Juarez is still a worthwhile place to visit. Probably not in a let's drink tequila and buy prescription drugs recreational kind of way, but rather in a bleak, let's honestly see how the border space between two asymmetrical nations is constructed and how do we as Americans respond to that way. Juarez is not Mexico and El Paso is not America. They are more complex, global nodes. A nomadic, aterritorial space, symbiotic in nature, and, while arbitrarily split, maintains a cultural porosity. Here is where the aspirations of a whole class of people wash up against an increasingly inward-looking first world barrier. To be a consumer in America is to be a part of this system of NAFTA accommodating, cheap-goods-producing maquiladora factories. And however loathsome it may be, this is its reality.
Here's the setting: 4pm at the Mercado Juarez, the enclosed market in the city center, the best place to hone your haggling skills if you're looking for leather goods or turquoise jewelry. That in all honesty is also the best place to immediately be pegged as a gringo tourist and get taken for a ride for stuff that's actually pretty cheap looking and that you probably wouldn't even look twice at if you weren't in Mexico, but that's beside the point. It's a fun place, or at least it was. This is the exchange between Mauricio (who's trying to charge me way more than I can afford -$20- for a wallet). He tells me I'm the first person in the market that day. I ask him why no Americans are coming to Juarez anymore.
Mauricio: "They think it's dangerous here."
Me: "Well, isn't it, a lot of people have died."
Mauricio: "Yeah, amigo, it's dangerous for us, but not for you."
I bought two wallets and walked back over.