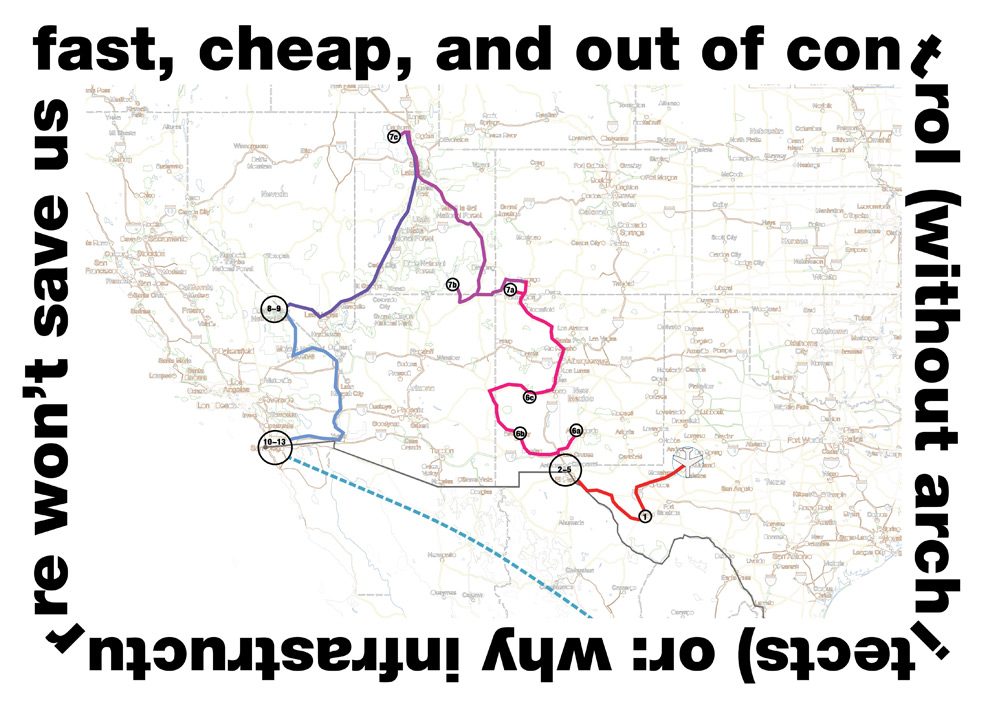 My proposal for a post-graduate Kinne travelling fellowship was accepted. Not only does it further delay the inevitable job search, but it affords me the means to visit what I consider to be some of the most interesting territory in the world – the American Southwest and the US-Mexico Border area. It's an area I'm familiar with having lived in California and Texas, with frequent detours into Mexico, but it'll feel good to re-visit with a more critical eye. Dean Wigley also seemed to particularly relish reading the title at graduation, giving extra emphasis to "won't." Download the entire pdf proposal here. See Abstract below:
The bureaucratic, welfare-state housing policy approaches from the mid-twentieth century have unquestionably failed, but what comes next? The urbanization of the developing world has lent this question a desperate sense of urgency, and while central planners slowly test solutions, it is squatters­—lacking developer or nation-state support—who have created a living laboratory of multiple failures and successes. Where the experiments become truly interesting is along the nearly 2,000-mile-length border of Mexico and the United States­—­the most asymmetrical border in the world. A nomadic, aterritorial space that is neither American nor Mexican, symbiotic in nature, and, while arbitrarily physically split, maintains a cultural porosity. Here is where the aspirations of a whole class of people wash up against an increasingly inward-looking first world barrier. What are the delicate political systems of control that allow this ecosystem to experience unparalleled growth? How does the built environment respond to these systems? What hidden systems can be extracted from a firsthand look at vast informal settlements, which in turn provide a framework for precise applications in architecture, technology and urbanism? Most importantly, this proposal is not merely about the collection of research data, but rather the formulation of a constructed argument regarding alternative future potentials of the built environment based on uncovered models existing within the border region.
The research will be completed through three mutually supportive phases. The first involves an intensive, first-hand documentation of the urban development in the two largest transnational border areas in the Western Hemisphere: El Paso/Juarez and San Diego/Tijuana. The research will be supported by an investigative journalist, a political science professor and the Juarez Department of Urban Planning. Secondly, a self-guided road trip will be taken through the southwestern desert to document historically how, without architects, ecologically sustainable structures have survived through the ages. This notion will be further developed by exploring responses ranging from artists Donald Judd and Robert Smithson to the self-sustaining Anasazi cliff dwellings at Mesa Verde and the U.S. missile testing ground at White Sands, New Mexico. Lastly, guided by a local Mexico City Architect, I will explore the "Tijuana-ification" of Latin America, with a study of the successes and failures of implementing an informal urban growth model, free of infrastructural support, into a metro area of 22 million people.
2 Responses to "fast, cheap, and out of control (without architects) or: why infrastructure won't save us"
john locke » Blog Archive » slow, expensive, and with clearly defined boundaries Says:
July 13th, 2009 at 10:45 am

[…] the original proposal Fast, Cheap, and Out of Control (Without Architects) or: Why Infrastructure Won't Save Us « kauai + […]

kinne fellowship road trip | lioninoil Says:
September 19th, 2009 at 5:21 pm

[…] clocked over six thousand miles in six weeks. You can read about the trip origins and research goalshere, and while there's still so much information to parse you can follow the progress […]
reply