Located on the NW Corner of 87th and Amsterdam Ave Google Map link
With some slight modifications from the previous iteration, a new version popped up on 87th over the weekend. The only significant changes were the addition of some slight suggestive text: "take a book," "leave a book," and removing additional shelf material to expose the sides of the actual phone mechanism. I had been tipped off by a telephone repair technician that the likely cause of the prior shelf disappearances could be attributed to the tech's inability to access the locking mechanisms on either side of the phone, requiring him to remove and probably toss the shelves. Further observation will be required to see if this version can outlast the former's 5 weeks of operation.
The intersection here is part of a pretty interesting area with a diverse mix of pedestrian traffic. 86th street acts as a strong east-west thoroughfare that effectively splits the northern portion of the neighborhood from the rest of the upper west side, and predictably there is also a visible, distinct change in scale when looking south versus north. The site is a mixing chamber of sorts with four quadrants that come together here: the chain retail stores to the south and west along Broadway; the Innovative Diploma Plus High School and P.S. 334 to the southeast; an eclectic mix of housing scales to the northeast and a growing dining and leisure strip taking off to the north. The goal here is to try play to all those users, and create a community focal point of nearby residents, commuters on their way to and from the train, diners, and spillover from the large retail stores.
It was great to spend a few hours observing how people interacted with the shelves. Even at 9am on a Sunday morning, it quickly became a point of attraction on the sidewalk, at one time hosting a queue of six random strangers waiting to get a closer look. The addition of subtle instructions seemed to help, as this time there were two separate occasion when people left holding a book. It still remains to be seen whether anyone begins leaving their own and adding to the collection, but it will be certainly be interesting to find out.
After further observation of this iteration, I'll post the cut files if anyone wants to make their own. Let me know if interested.
Made possible with generous support from the following:
Materials and Fabrication:
SFDS Fabrication and Design Shop, Brooklyn, NY
Book Donation:
Mrs. and Mrs. Moon
Housingworks Bookstore
Kay Gardiner
Residents of 951 Amsterdam Ave.
Photography:
Jackie Caradonio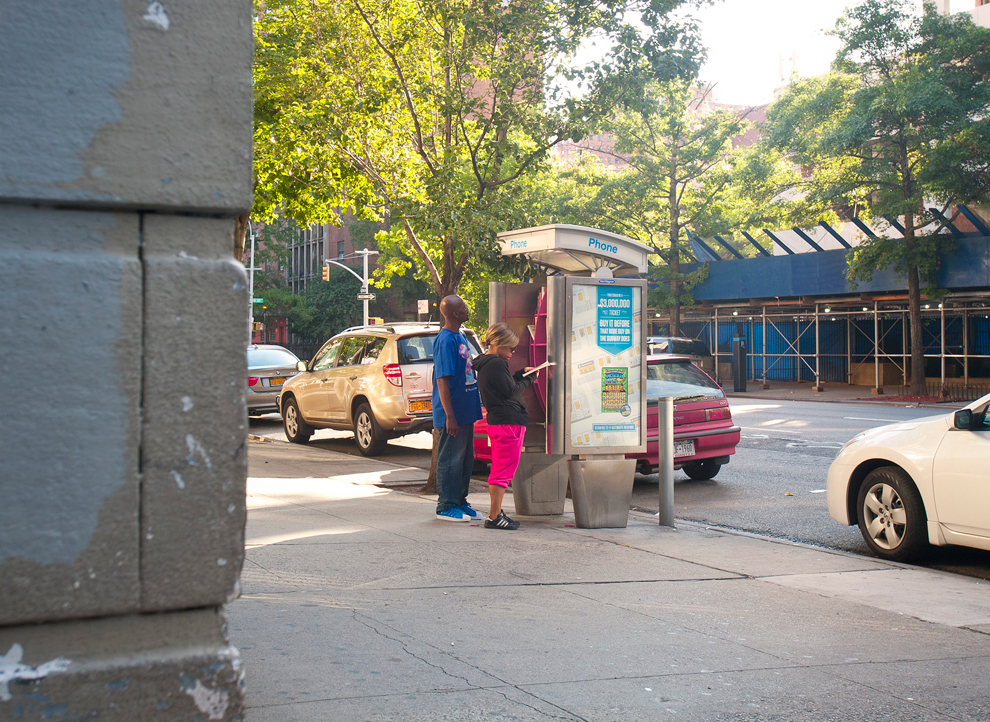 One Response to "DUB 003"
Maria Says:
November 14th, 2012 at 5:53 am

Dear John,
writing to you, as me and my friends are going to make an exhibition about book interventions in public spaces, and some other nice architecture around books. It will be a part of Moscow municipal programm "Books in parks" and one of the main russian book-fairs "Nonfiction" (http://www.moscowbookfair.ru/eng/about.html). We liked you project of parasite bookshare, and thought may be it is possible to exhibit the photo of it. That for I'm asking for the highres images.

can you provide us with it?

courtesy yours
Maria Fadeeva
http://www.knigivparkah.ru
reply