Following from the dispiriting failures of 001, 002 proved to be more successful, and not only because of it's pumpkin orange color, but because it wasn't cleared of books within 6 hours and the empty shelves themselves weren't removed after 10 days. I attribute this mostly to an adjustment of tactics and location. Every block has its own subtleties and micro-urban climates, one block is boarded up with for "rent signs" while the next is a thriving pocket of activities and street-level engagement. By moving to a location 8 blocks further south, 002 was placed nearer to a major thoroughfare – 96th street – and received a more steady stream of mixed pedestrian traffic leaving the express train stop on Broadway and by virtue of being closer to street level retail (a large CVS), educational (a school and church) as well as the residential apartments along 97th street. 001 just didn't get enough foot traffic and frankly felt deserted. I thought being near a hostel and school would generate some interest, but the hostel is an imposing Victorian Gothic structure with a decidedly prison-like bent reflecting its previous use as a nursing home for "Respectable, Aged and Indigent Females" and unsurprisingly generates little sidewalk traffic and even less urge to stop and inspect some books in a phone booth.
In an attempt to encourage sharing and free distribution of the initial selection of books, I didn't mark the books in any way. But in lieu of the entire initial selection of 001's books being carted off within a few hours, I tested out being more explicit and treating the books more like a library. Almost like a Dewey decimal number taped to the spine of a library book, I added a visible logo to the bottom of each spine. I hoped this would prevent the books from easily winding up in the hands of sidewalk book resellers, but I fear that the marking implies an ownership that prevents a casual exchange of taking and leaving their own books. I observed a number of people reach out and pick up a book, flip through it, but then return it to the shelf. Some even doubled back for a second look and to engage in a closer inspection of the shelves, but they still refrained from actually taking a book. Perhaps feeling hesitant to, I don't know, steal/vandalize (irony) something that's out in public? I can see how there might be a stigma there, to not just keep walking straight along the sidewalk with your head down, but to stop and engage with the street. I intentionally wanted to avoid any directions, like a sign that would say something along the lines of "hey this is for sharing books, you can leave some here" and I still want to avoid anything that seems overtly prescriptive, but after seeing people hesitate when confronted with 002, perhaps there is a more subtle way to gently describe an intended use.
Even as they are rendered obsolete by the ubiquity of smartphones, I'm interested in pay phones because they are both anachronistic and quotidian. Relics, they're dead technology perched on the edge of obsolescence, a skeuomorph hearkening back to a lost shared public space we might no longer have any use for. Something to be nostalgic for, in the way I can't think about a phone booth without conjuring up images of an old, impatient woman banging on the door to one while I was inside using a calling card to ask for money. And of course they are nuisance, basically pedestrian level billboards that only blight certain neighborhoods (good luck finding a payphone in Tribeca, while there are eight separate phone kiosks on one block between 108th and 109th streets and Columbus Ave). But they can also be a place of opportunity, something to reprogram and somewhere to come together and share a good book with your neighbors.
All the books were donated by local residents and the plywood was milled by Kontraptionist.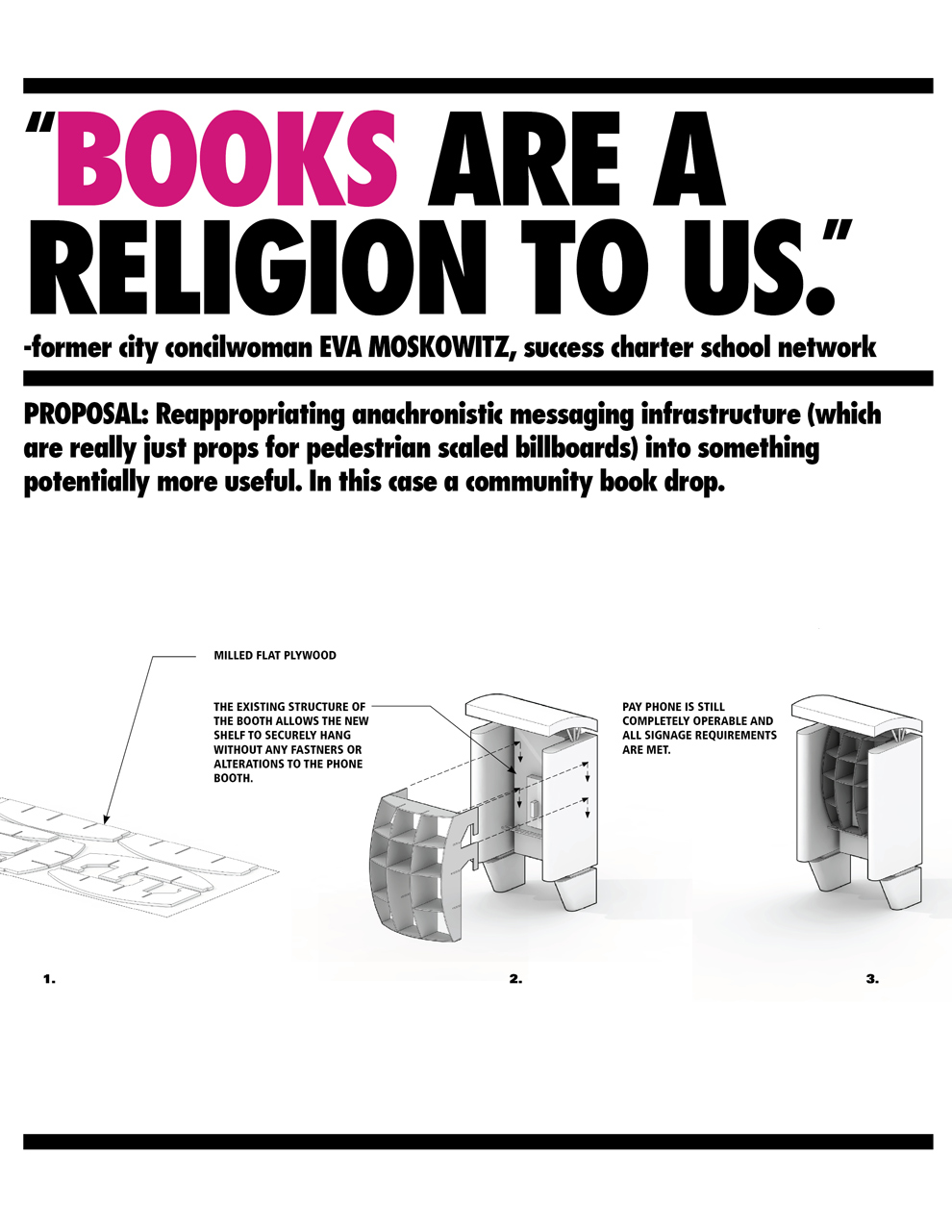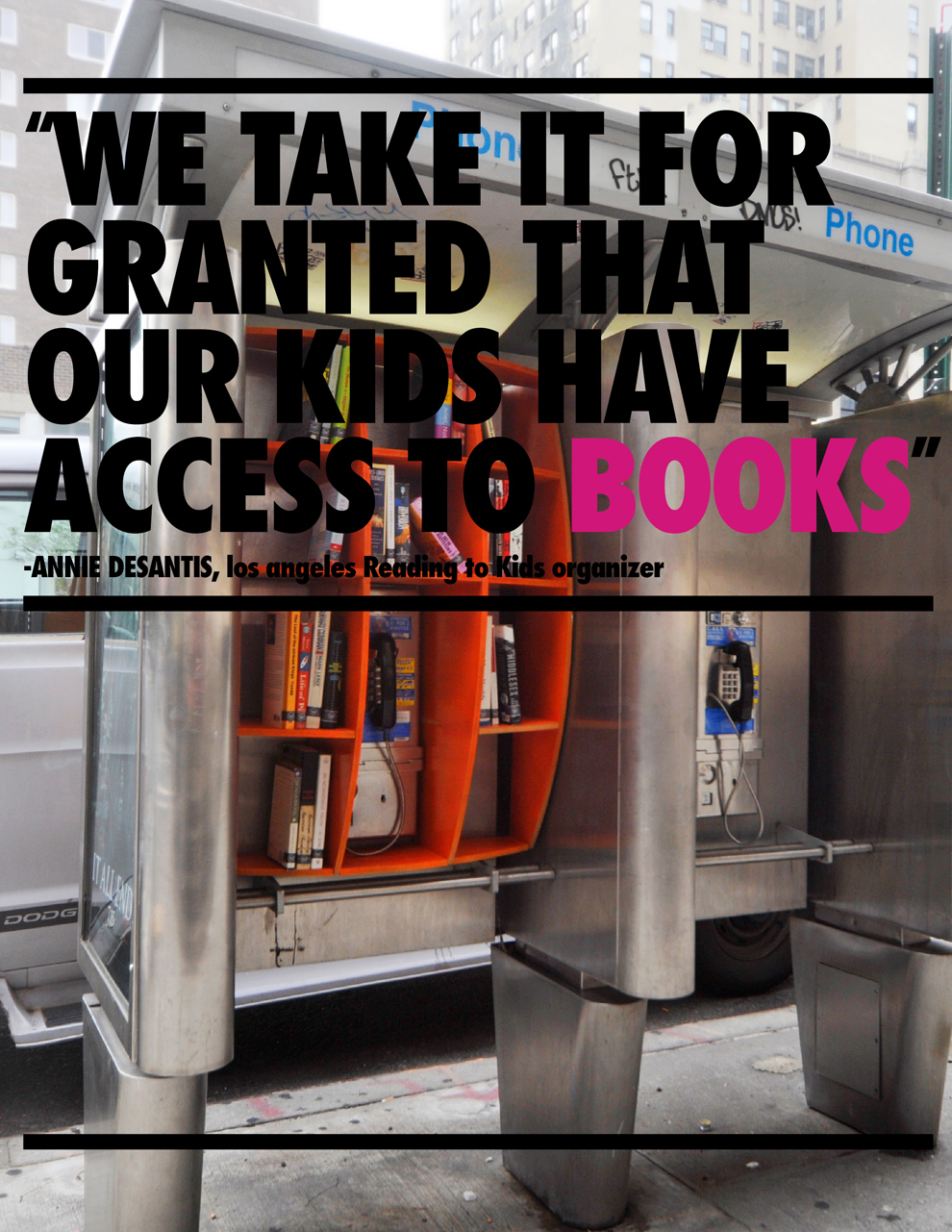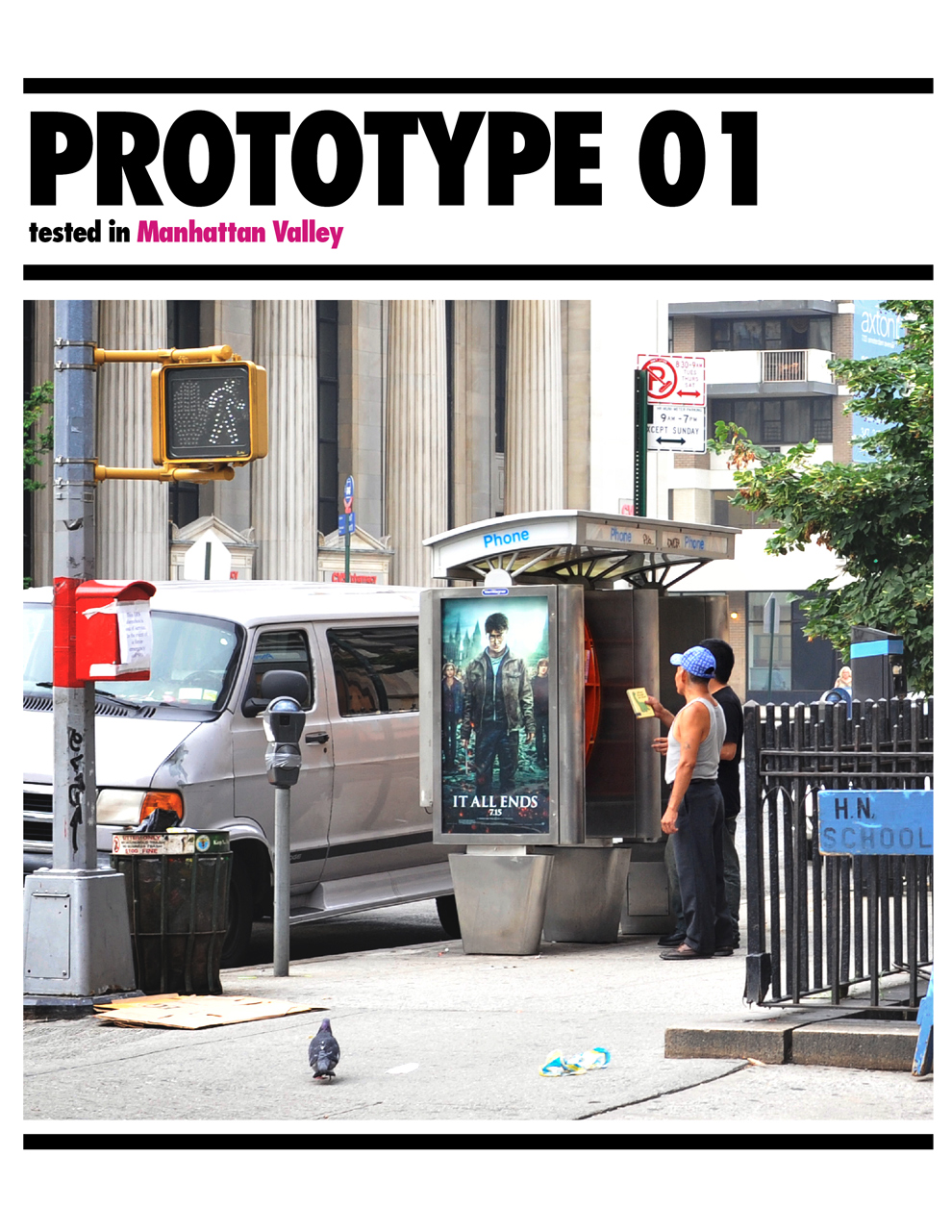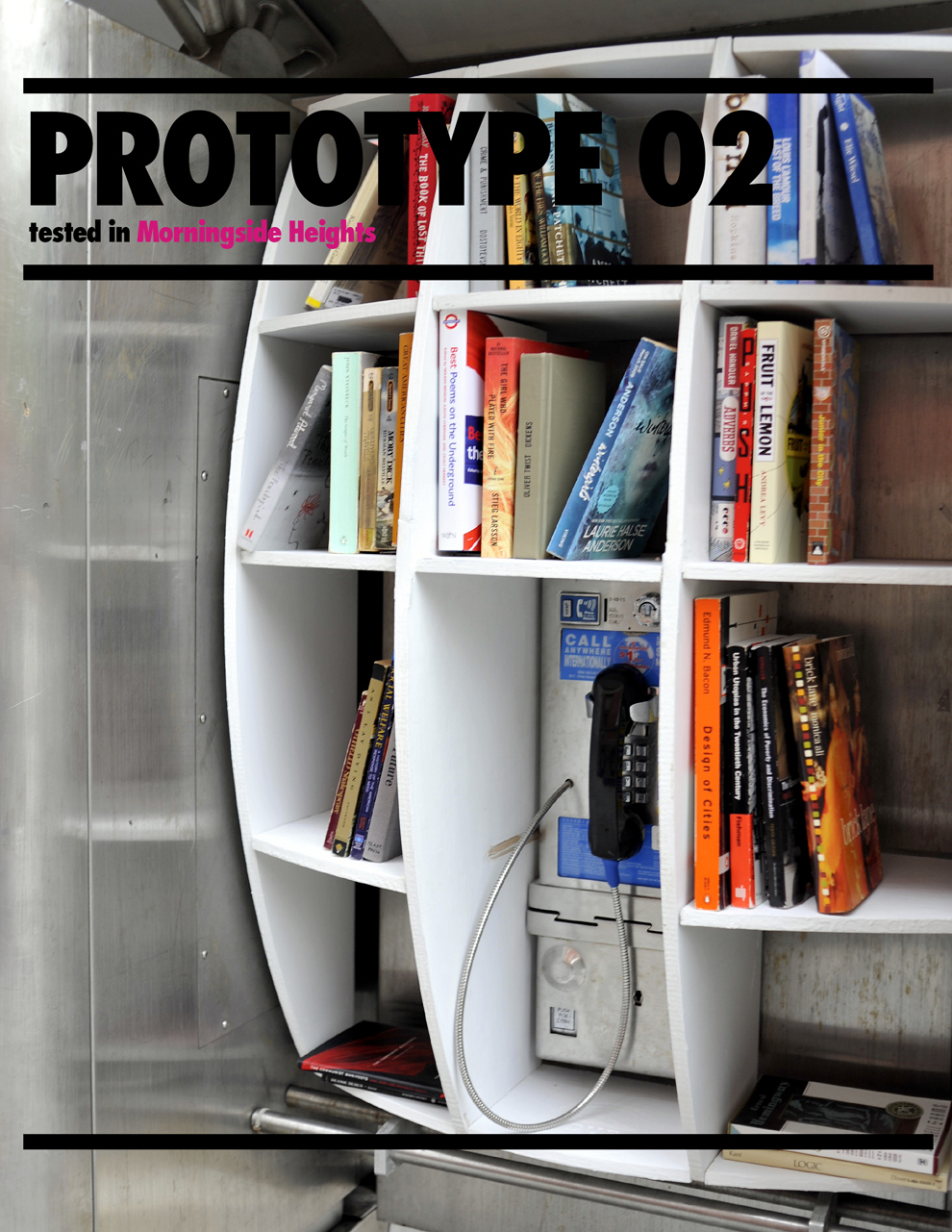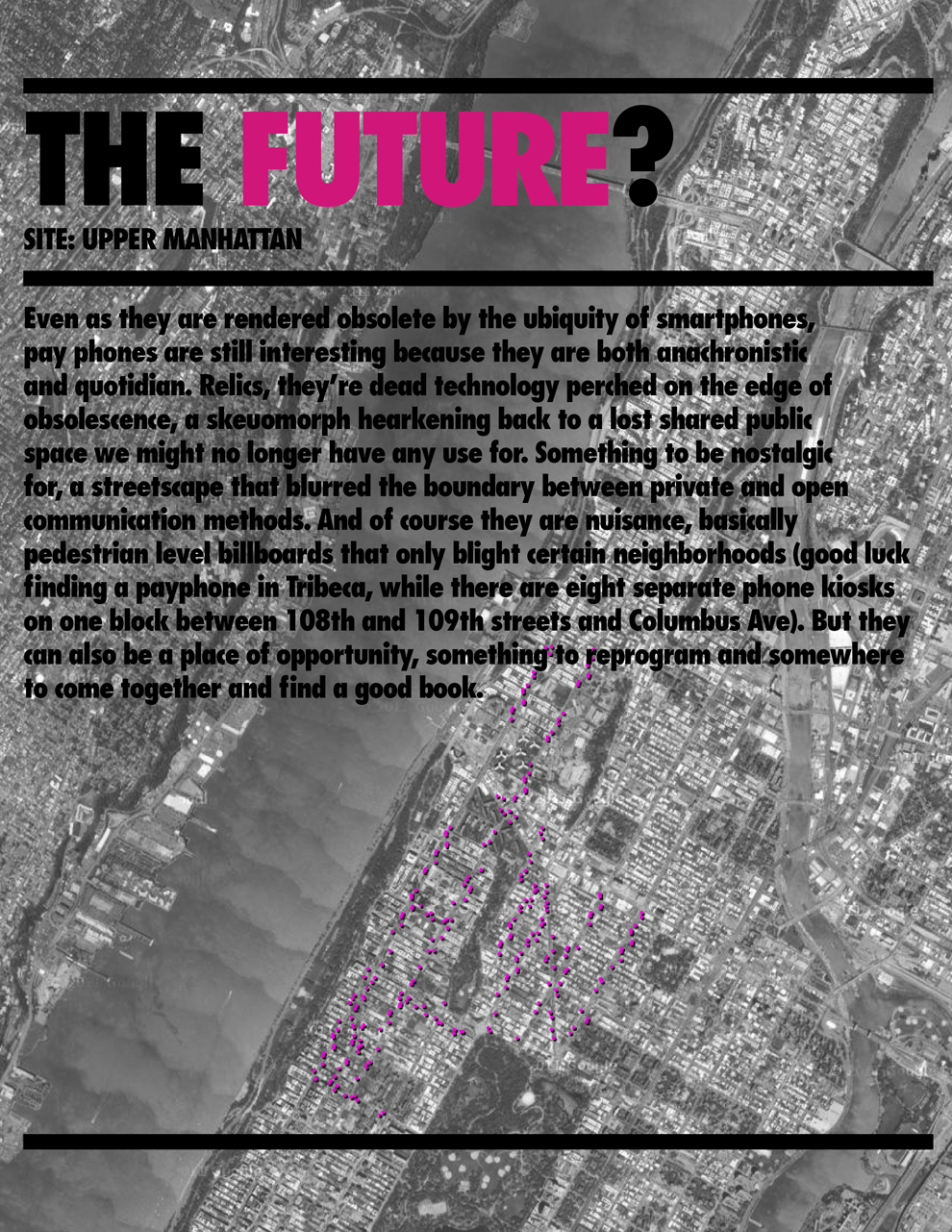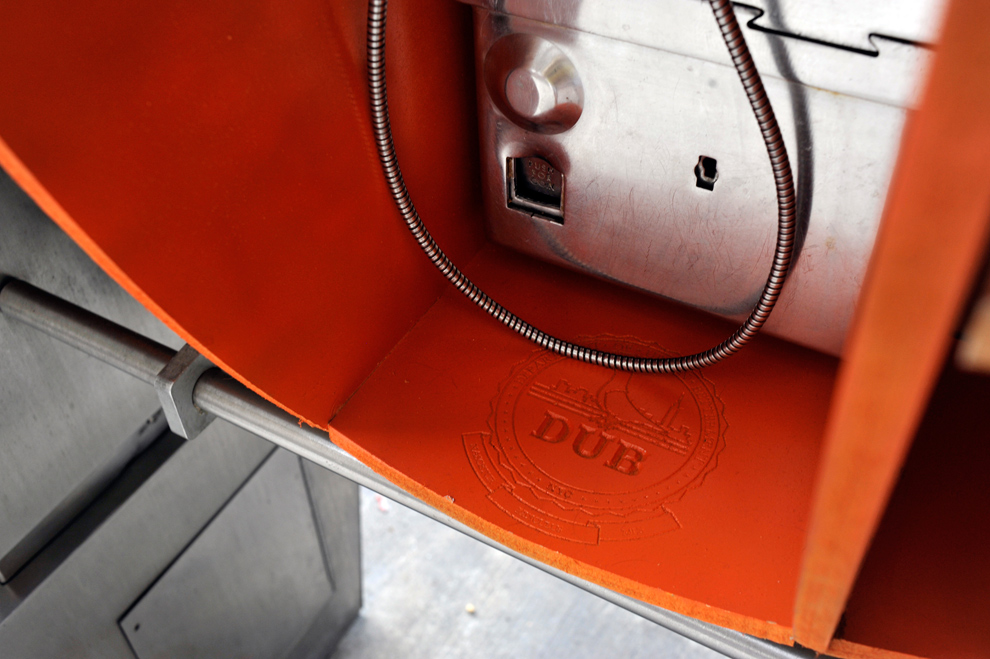 EDIT FEB 21, 2012: Hi folks, if you're reading this and you're interested in getting involved, get in touch!
38 Responses to "DUB 002"
reply