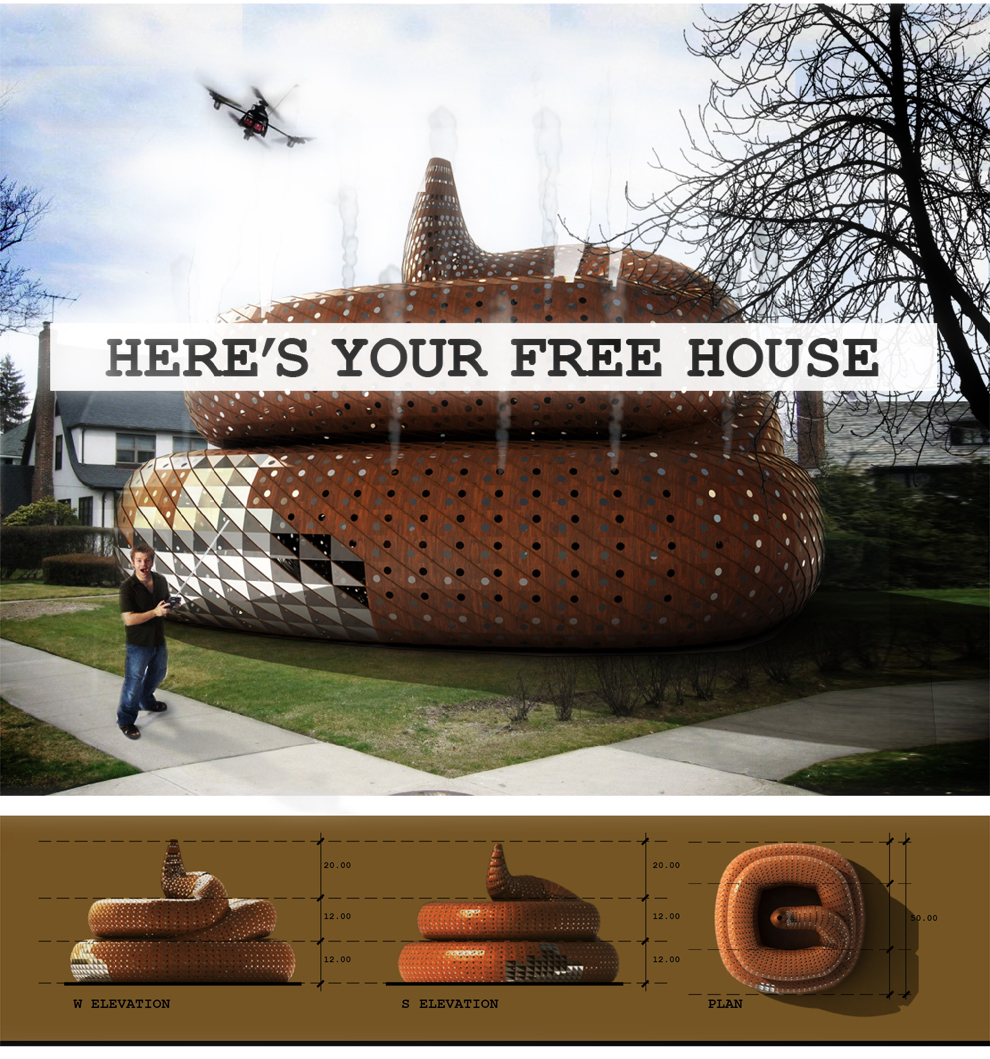 After perusing a recent discussion post on archinect aptly titled: architects getting f'd on Craigslist (or: truth, bitterness and self-pity together at last), I was reminded of my own unfortunate craigslist encounter. It pains me to say it, but true story, last year, my final grad semester, I was cruising craigslist looking for some freelance architecture work. Now, granted, jobs on craigslist are typically posted by the most bottom-feeding, scum-suckingest of elements that greedily prey on the desperate, naive or unemployed, (at the time I equaled all three) at a frequency that beggars belief. So I knew I was wading into an unregulated seller's market, but we've all been in tough positions before and compromises are made and pride may or may not survive intact. I had managed to wade through the obvious red flags which typically fall into one of two categories: including the clearly insane ("This is your first impression and demonstrates your ability as a designer. Use care in selecting the paper, the font, and the organization of text on the page.") or the unnecesarily pretentious ("hip and prestigious award-winning design firm now accepting interns…"). So it was not without a healthy dose of skepticism that I reached out to one seemingly innocuous post, "Long Island Resident Looking for Architecture Services."
Unfortunately it didn't take many email exchanges before it quickly became obvious that "Long Island Resident" – a dentist – held a depressingly all-too-common view on what the role of an architect should be during difficult economic times and where on the scale of respectability he held the design services sector of the construction process. Basically LIR had a plot of land and wanted someone to design him the house that would sit on it for free. Or rather that familiar old standby, work for free in exchange for "something to put in your portfolio." This wasn't one of those situations where you're just trying help out a friend or family member with a garage, or doing some pro-bono volunteering for those in need, or just being an adjunct. No, not at all, this guy had the means and was looking to browbeat someone into submission. In all fairness LIR thought a full set of documents, about four months of work, shouldn't be free, but rather could be had for the princely sum of $350. I had no idea where the $350 number came from, possibly it was the number that allowed an apparently well-off dentist to salve his own conscience at demanding such massive concessions from a poor, young architect all in the name of The Greatest Recession Since the Great Depression. But I don't know. Look, obviously life isn't fair. People aren't infallible and when given the opportunity will take advantage of those that can't or won't defend themselves. Opportunism is a leach on any creative profession, especially architecture, where self-doubt and masochism run rampant.
As a firm believer in the you-get-what-you-pay-for principle, I took a few hours off from my finals, and sent off the above image to LIR. My counter-offer was that I would design and document a house for free, everything, on the one condition that he in no way interfers with my creative vision (see img above). I argued passionately and apparently in vain that the house I designed for him would be a sustainable marvel, 100% post-consumer recycled materials, it would utilize a unique geothermal process for harnessing energy from deep within the bowels of the earth that would create a custom steam-exhausting microclimate around his residence, and at the very least would be widely published. All for free. I thought he'd bite at it, but here I am some 21 months later, sitting and waiting. But in the meantime, the offer still stands and is extended to any other random, affluent craigslist poster out there looking for a house and doesn't want the burden of having to pay a designer.
So in parting, keep your eyes open, and if you start to see a number of Massapequa Park Steamers dropping all over a residential neighborhood near you, you can be assured of two things: a) there are some very satisfied architects out there and b) their fee was $0.00.
3 Responses to "house designed for a guy on craigslist who doesn't want to pay architects"
Ray T. Says:
June 9th, 2011 at 5:03 am

Awesome!!! You really do get what you pay for.

Meggen Says:
May 11th, 2012 at 1:37 pm

You are my hero.

Avi Valdman Says:
August 11th, 2016 at 12:23 pm

Greetings.
I would like to know if you can design a small complex of a total 10 units each 2 badrooms (no pool)
out of a container ships 40 foot long, 1 story.
thank you.
Avi.
561-305-9444
reply